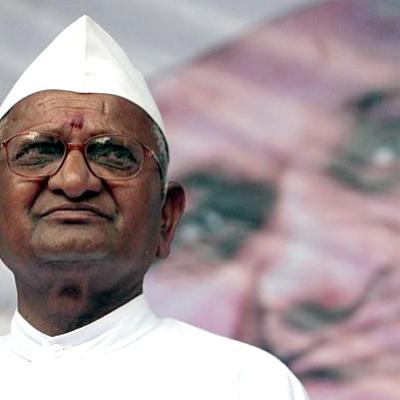 Nearly seven years after his anti-corruption movement caught the imagination of millions of Indians and shook the then UPA government, social activist Anna Hazare is set to go on an indefinite hunger strike again, this time, against the Centre in Delhi on Friday.
The protest will take place in the same iconic location, Ram Lila Maidan, where he had sat on a hunger strike in 2011 demanding that the then government set up a Lokpal to investigate cases of corruption.
This time, however, his target is expected to be the Narendra Modi-led BJP government.
Hazare has been pressing for setting up of the Lokpal at the Centre and Lokayuktas in the states, besides implementation of the Swaminathan Commission report, which has suggested ways to address the agrarian distress.
Hazare previously has accused the Union government of not appointing the Lokpal to investigate the cases of corruption, despite having a law in place.
"Anna will first visit the Rajghat and then come to the Ram Lila Maidan, where he will go an indefinite strike," said an aide of Hazare.
March 23 has been chosen as the day of protest on purpose as Bhagat Singh, Rajguru and Sukhdev were hanged to death on this day by the British, the aide said.