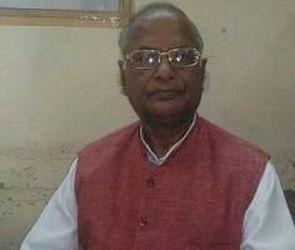 Bharatiya Janata Party president Amit Shah today appointed Rajya Sabha MP Madanlal Saini as the party's Rajasthan unit president, over two months after Ashok Parnami resigned from the post.
Saini has been appointed with immediate effect, the party said in a statement.
Assembly election in Rajasthan is slated for later this year.
The decision came after several rounds of meetings between Rajasthan Chief Minister Vasundhara Raje and Shah.
Earlier, Union Minister Gajendra Singh Shekhawat was tipped to be the state president.
Senior state BJP leaders congratulated Saini on his new assignment. The party leaders and his supporters reached the party's state headquarters in Jaipur even before the formal announcement of the appointment was made.
"He has worked with the party with all sincerity and dedication," said Ashok Parnami, who resigned as the state president in April.
Saini, 75, is a former MLA and Rashtriya Swayamsevak Sangh volunteer.
He has held various posts in Bhartiya Kisan Morcha and Bhartiya Mazdoor Sangh. -- PTI