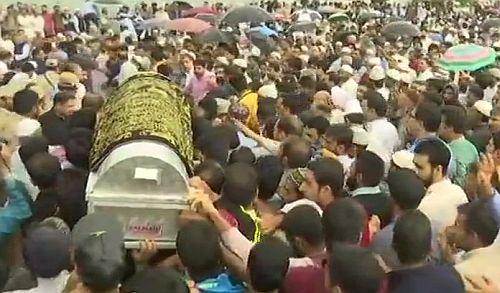 Massive funeral procession of slain Kashmiri journalist Shujaat Bukhari taking place in Srinagar. Prayers are being read out as this coffin covered in a shroud is being carried aloft by mourners. The coffin was carried through the narrow streets of Srinagar as people across party lines paid tribute. Bukhari will be laid to rest in his ancestral village in Kreeri in north Kashmir's Baramulla district today.
Former J-K CM Omar Abdullah visited Bukhari's home this morning. Separatist Yasin Malik is also seen in the funeral procession. The separatists have also condemned his killing terming it barbaric and unpardonable.
Bukhari's killing has evoked widespread condemnations in Jammu and Kashmir and from across the country.
Jammu and Kashmir Governor N N Vohra has conveyed shock and grief on the gruesome killing of Bukhari.
Recalling Bukhari's standing as a veteran journalist, the Governor described his murder as a big loss to the media fraternity. In a message, Vohra has prayed for peace to the departed soul and strength to the bereaved family to bear this irreparable loss. The Governor also called Bukhari's brother and Cabinet Minister Basharat Ahmed Bukhari to convey his heartfelt sympathy.
Chief Minister Mehbooba Mufti has also strongly condemned the killing of the veteran journalist. In a condolence message, the chief minister described the killing of Bukhari as highly barbaric, deplorable and condemnable. "His killing has only established that violence cannot stand the scrutiny of logic and rationality. The whole state stands in unanimity in condemning this inhuman act of savagery,' Mehbooba said in the statement.
The chief minister visited the hospital where Bukhari was taken after the attack and paid her respects to the departed soul. She also conveyed her heartfelt sympathies with the bereaved family particularly his parents, wife and two minor children.