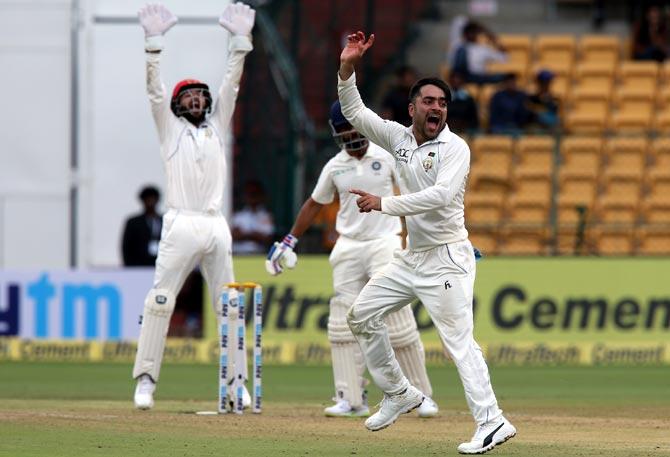 The Afghanistan team today brought the festive fever on the ground of Chinnaswamy stadium as they celebrated Eid-ul-Fitr before the start of the second day's play of the historic one-off Test against India in Chennai.
The visiting players including Rashid Khan, captain Ashghar Stanikzai and Mujeeb Ur Rahman, first visited a local mosque in the morning and then arrived at the stadium wearing traditional Afghani festive dress.
The players then greeted by hugging each other for quite some time before they changed into their whites to prepare themselves for the day's play.
"Eid Mubarak ! ACB extends its best wishes on the auspicious occasion of #Eid to Patron in- Chief H.E Ashraf Ghani, National players, Cricket fans, Afghan people and all Muslims around the world," Afghanistan Cricket Board said in their Twitter handle.
After losing the toss to Indian skipper Ajinkya Rahane, Afghanistan made a superb comeback in the Test match after they were belted all over the park by centurions Murali Vijay and Shikhar Dhawan.
They came back strongly by removing five wickets in the last session yesterday. They also picked up the last four wickets in the first session of Day two to dismiss India for 474 in their first innings. -- PTI