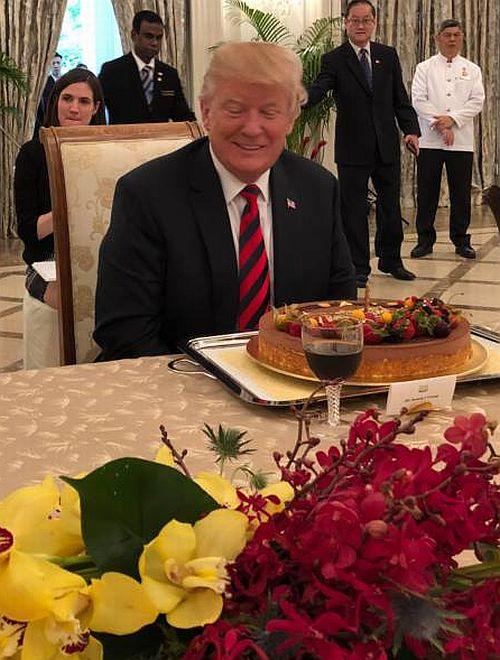 Singapore Prime Minister Lee Hsien Loong today surprised Donald Trump with a big birthday cake, ahead of the US President's historic summit with North Korean leader Kim Jong-un in Singapore tomorrow.
Trump celebrated his 72nd birthday during his lunch with Loong at the presidential palace Istana after their bilateral meeting during which the two leaders discussed everything from the summit preparations to the US' tariff threats. Trump turns 72 on June 14.
A picture of Trump smiling at the cake, decorated with fresh fruit, was shared on Twitter by Singapore's Foreign Minister Vivian Balakrishnan with the message saying "Celebrating birthday, a bit early".
Trump was accompanied by Secretary of State Mike Pompeo, National Security Adviser John Bolton, White House Press Secretary Sarah Sanders and White House Chief of Staff John Kelly during the meeting.
The meeting was Trump's only scheduled public event today.
Earlier, Trump tweeted it was "great to be in Singapore, excitement is in the air". Trump's landmark meeting with Kim tomorrow will mark the first time a sitting US president meets with a North Korean leader. The summit will also mark a turnaround of relations between Trump and Kim after a long-running exchange of furious threats and insults.
The two leaders have had an extraordinary up-and-down relationship over the past 18 months. -- PTI
The picture was tweeted by Singapore foreign minister Vivian Balakrishnan