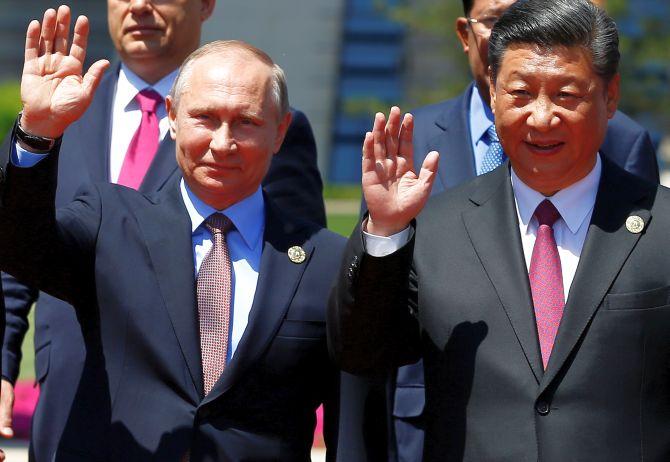 resident Xi Jinping today awarded China's first friendship medal to his Russian counterpart Vladimir Putin as the two leaders firmed up their alliance amid mounting US diplomatic and economic pressure on them.
Xi presented the medal described by the official media as the 'highest state honour of China' at a special ceremony at the Great Hall of People during which he expressed his respect and admiration for Putin's contributions and efforts to building a peaceful world.
Last year Putin awarded Xi the Order of St Andrew for his distinguished service to the peoples of China and Russia.
The Order of St Andrew, the Apostle of the First-Called was presented to Xi during his visit to Moscow.
On his 19th visit to China after his recent re-election, Putin held talks with Xi while on his way to attend the Shanghai Cooperation Organisation (SCO) meeting at Qingdao tomorrow.
China and Russia expanded their ties manifold in recent years as Putin is under increasing pressure from the US and Europe. Their alliance grew further as US President Donald Trump stepped up pressure specially on China both on the trade and North Korean fronts.
Presenting the medal, Xi congratulated Putin on winning the first Friendship Medal, and also expressed his respect and admiration for Putin's contribution and efforts to building a peaceful world, official media reported.
He called Putin his best sincere friend and most respected in China.
In his interview to state-run CGTN, Putin described Xi as 'approachable and sincere' and 'a very dependable man to work with'.
No matter how international situations change, China and Russia always firmly support each other in defending their respective core interests, deepen cooperation in all areas, jointly and actively participate in global governance, and play a pivotal role in establishing a new type of international relations and building a community with a shared future for humanity, Xi said in his talks with Putin. -- PTI