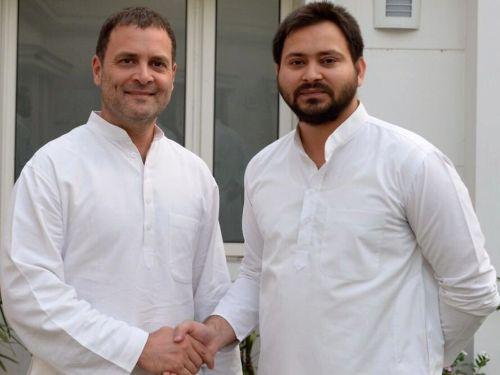 Congress president Rahul Gandhi on Thursday met Rashtriya Janata Dal's Tejashwi Yadav in New Delhi, after which the opposition leader in the Bihar assembly said their coming together was aimed at "protecting Constitution, secular-democratic values and goals of social justice".
The meeting came days after the RJD won the Jokihat assembly seat in Bihar in a bypoll, defeating the ruling JD-U.
"We are here not to form governments but to transform the lives of the downtrodden people against the wishes of (the) current right-wing authoritarian regime. Our togetherness is aimed at protecting Constitution, secular-democratic values & goals of social justice. We shall fight, we shall win," Yadav tweeted after the meeting.
In another tweet, he said, "Fruitful meeting with @RahulGandhi Ji. Bliss was it to be in that dawn..to be young was all the more heaven. We are committed to take nation out of the climate of fear generated by this regime. Watch out! Shall come out with a committed programme for farmers, youth,women, poor...(sic)."
RJD candidate Shahnawaz Alam defeated Murshid Alam of the JD-U by over 41,000 votes. Jokihat seat in the Muslim-dominated Araria district of Bihar was won by the JD-U in the 2015 assembly election.
The Jokihat bypoll defeat came as a jolt to Chief Minister Nitish Kumar of the JD-U who dumped the RJD and the Congress last year to join hands with the BJP to form a new coalition government in Bihar. -- PTI