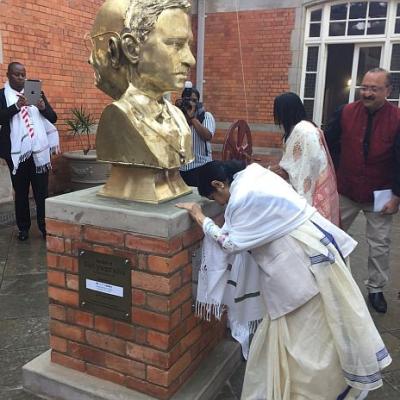 External Affairs Minister Sushma Swaraj today undertook a train journey from Pentrich to Pietermaritzburg, a railway station where a young Mahatma Gandhi was thrown out of a "whites-only" compartment, an incident that acted as a catalyst for the launch of the Satyagraha movement.
Swaraj, who is in South Africa on a five-day visit, yesterday planted a sapling in the Phoenix settlement where Mahatma Gandhi theorized his philosophy of non-violence during his stay in South Africa.
"The journey that acted as a catalyst for Mahatma Gandhi to practise satyagraha! EAM @SushmaSwaraj embarks a train journey from Pentrich station to Pietermaritzburg," Ministry of External Affairs spokesperson Raveesh Kumar tweeted.
On the night of June 7, 1893, Mohandas Karamchand Gandhi, a young lawyer, was thrown off the train's first class compartment at Pietermaritzburg station for refusing to give up his seat.
The incident led him to develop his Satyagraha principles of peaceful resistance and mobilise people in South Africa and in India against the discriminatory rules of the British.
The incident of Gandhi being thrown off the train on a cold winter evening was re-enacted, and his a two-sided bust installed on the station platform. Gandhi spent 21 years in South Africa before returning to India in 1915. -- PTI
Image: The two-sided bust of Mahatma Gandhi, one as a young lawyer in S Africa and the other as the man the world knows as the Mahatma.