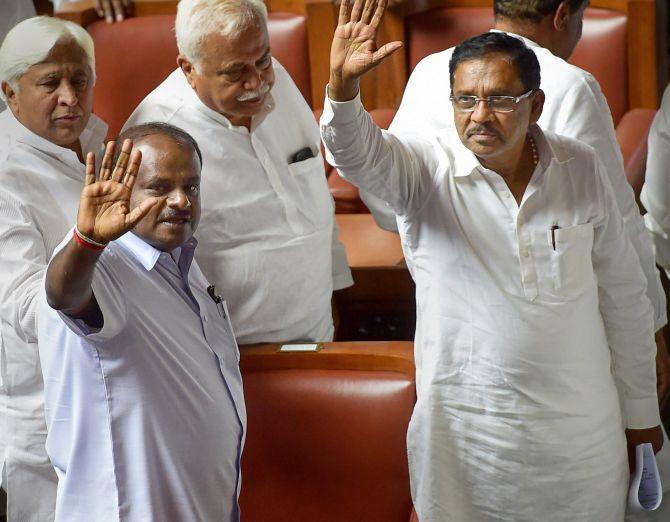 Karnataka Deputy Chief Minister G Parameshwara today indicated that Congress leaders from the state were likely to visit New Delhi to discuss the list of ministers and portfolio allocation with the party high-command, ahead of the June 6 cabinet expansion in the southern state.
"Whether we are going (to Delhi) today or tomorrow, I am not sure. The information is that (Congress president) Rahul Gandhi will arrive today (from abroad). Once he is back, he will call us, we will go then," Parameshwara, who is also the state Congress chief, told reporters.
Both the parties in the ruling coalition in Karnataka -- the Congress and the JD-S -- have announced a power-sharing agreement, under which the portfolios to be held by each partner have also been mentioned.
Under the agreement, the Congress would get the Home, Irrigation, Bangalore City Development and Law and Parliamentary Affairs portfolios among others.
The portfolios of the JD-S include Finance, Excise, Information, Intelligence, Public Works Department, Power, Cooperation, Tourism, Education and Transport.
According to Congress sources, several senior party leaders with ministerial aspirations are camping in Delhi amidst reports that those who served as ministers for long may be deputed for party work and new faces would be accommodated in the cabinet.
Responding to a question in this regard, Parameshwara said, "There is no such discussion...."
He added that there were opinions that those who had been ministers for long should not be given ministerial berths and new faces should be given a chance as despite winning elections on multiple occasions, they had not got the opportunity.
The high-command would look into such suggestions while deciding on portfolio allocation, Parameshwara said.
-- PTI