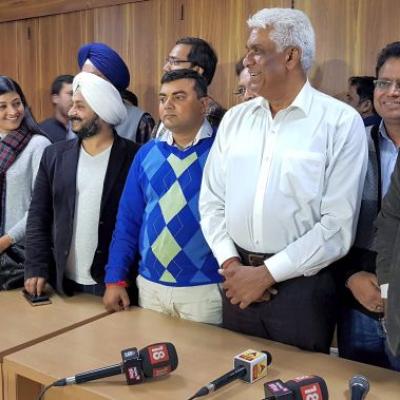 "Why were the offices set up," the Delhi high court today asked the disqualified Aam Aadmi Party MLAs, who claimed they had not received any monetary benefit, perks or remuneration including official vehicles, in their capacity as parliamentary secretaries.
A bench comprising of Justices Sanjiv Khanna and Chander Shekhar said if offices were set up, it means the MLAs were overlooking the administrative functions of the ministries where they were posted.
"Why were offices set up for you (disqualified AAP MLAs)? What were you getting from that. Normally if you are given an office means you will come and sit. You will also use the infrastructure. You are sitting there, (which) virtually means you are overlooking the affairs and functioning of the ministry," the bench orally observed.
The court's observation came during the hearing of the 20 AAP legislators' pleas challenging their disqualification for holding offices of profit.
The arguments on behalf of the MLAs, which remained inconclusive, will resume February 15.
During the nearly three-hour-long hearing of the legislators' petitions, senior advocate K V Viswanathan, appearing for some of the MLAs, submitted that the Election Commission (EC) did not consider the aspect of what benefits they had derived while ruling that they held offices of profit.
The advocate said that no pecuniary benefit was received by the MLAs, while appointed as parliamentary secretaries.
Yesterday, the MLAs had claimed that they were held guilty of holding office of profit by the EC without giving them an opportunity to explain their stand. --
PTI