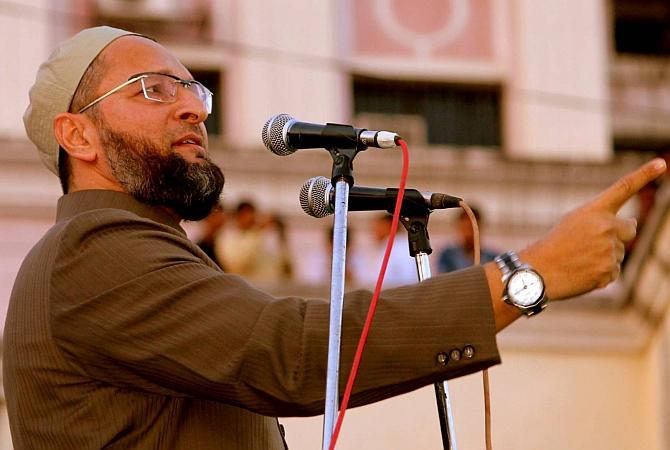 Hitting back at Uttar Pradesh Chief Minister Yogi Adityanath over his 'Nizam' barb at him, All India Majlis-e-Ittehadul Muslimeen president Asaduddin Owaisi on Wednesday said he was an Indian by choice and an equal citizen and a partner in the country.
The Hyderabad MP was responding to Adityanath's recent remarks at a rally in poll-bound Telangana that Owaisi would have to 'run away' from Hyderabad, just like the Nizam, if the Bharatiya Janata Party came to power in the state.
Owaisi also criticised Adityanath for coming to Telangana for election campaign at a time when there was tension in Bulandshahr in the northern state.
"I am number one citizen of India, an equal citizen and I am not a tenant. I am a partner here," he told a 'Meet the Press' programme organised by Press Club of Hyderabad.
He said unlike Yogi, he is an Indian 'by choice'.
"We (Indian Muslims) rejected Jinnah's (two-nation) theory. We accepted India and we always accept that India is our homeland. You cannot treat us as second class citizens.
"BJP's ideology is to treat Muslims as unequal citizens," Owaisi claimed.
In an attack on Adityanath on Sunday, Owaisi had said India is his father's country and no one is running away.
Addressing a poll rally in Hyderabad, he had also alleged that Adityanath was speaking the language of Prime Minister Narendra Modi and the BJP and that he was ignorant about history.
MIM's fight is to get 'our share' in politics, society and development, Owaisi said.
Though anyone is free in a democracy to conduct election campaign, Adityanath coming to Telangana for canvassing at a time 'when state is burning' shows his callousness, he claimed.
"The law and order machinery is breaking. Good luck to him. I hope that the people of Uttar Pradesh will realise that what a callous, reckless and irresponsible chief minister they have got," he said.
Hoping that Uttar Pradesh Police would also realise that the chief minister was not there to grieve with the families when one of their officers was shot dead, Owaisi said, Adityanath is doing 'election tourism'. -- PTI