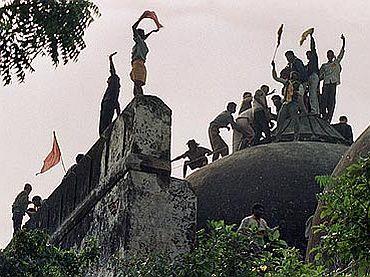 The VHP would observe Shaurya Diwas on December 6, the anniversary of Babri Masjid demolition, and also gear up for programmes lined up on the occasion of Gita Jayanti on December 18 to garner support for the construction of a grand Ram Temple in Ayodhya.
With the 2019 Lok Sabha elections round the corner, all eyes seem to be on the temple town as Thursday marks the 26th anniversary of the demolition. The Vishwa Hindu Parishad along with some akharas will be celebrating the day as 'Shaurya Diwas' and are likely to hold programmes to mark the day.
VHP spokesperson in Ayodhya, Sharad Sharma, said, "Shaurya Diwas will be traditionally celebrated. In Ayodhya, the VHP and various Hindu organisations are likely to organise a number of religious programmes, including a hawan, so that a grand temple of Lord Ram is built." Sharma also said that special prayers for Goddess Saraswati (the goddess of learning) were likely to be held so that the people, especially politicians do not "hinder the construction of a Ram temple".
"Sarva baadha mukti hawans (hawans seeking to get rid of all obstructions) too will be held. Tributes will also be paid to the innocent karsewaks who faced bullets and lost their lives," he said and compared the karsewaks to Jatayu, the vulture who tried to rescue Sita from demon king Ravan in the epic Ramayana.
The VHP office bearer said another Dharam Sabha was scheduled to be held in Delhi on December 9 in which over five lakh people were likely to turn up. -- PTI