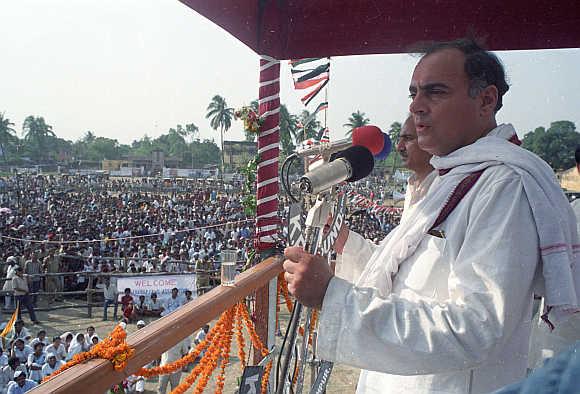 Digging out an old leaf from the statements made by late Prime Minister Rajiv Gandhi, Prime Minister Narendra Modi accused the Gandhi dynasty of having little knowledge about farmers' issues.
Addressing a public rally in Hanumangarh, Rajasthan, Prime Minister Modi said, "If the 'naamdaar' (dynast) is told that green chillies pay less to farmers than red chilli, he will give a speech saying that farmers must not cultivate green chilli but produce crops of red chilli. The person, who cannot differentiate between green chilli and red chilli, will now preach about farmers to us!"
It is said that Rajiv Gandhi while campaigning among the farming community was once told that the red chilli pepper is costlier than green chilli pepper. Mulling over the idea, Rajiv Gandhi in his following speech, reportedly asked the farmers: "Why are you growing 'green' chilli pepper when it is the red variety that can fetch you higher margins?"
The fact that it is the green chilli that indeed turns into red and is not grown directly was lost on the then Congress leader.
Prime Minister Modi also blamed the family for the ill-fate of farmers saying, "If the farmers of the country are in acute condition today, it is because of the mis-governance of 70 years. I say it with conviction that had Sardar Vallabhbhai Patel, son of a farmer, become the first Prime Minister of India, the farmers' community would not have been in such a condition. The four generations of the same (Gandhi) family, who neither understand farmers nor agriculture, made such policies that it has ruined the farming community completely."
The Prime Minister further blamed the Congress of backtracking on their promise of loan waiver in Karnataka, saying: "They made the promise of loan waiver in Karnataka. They lost in the state but still made government through the backdoor. Now when the farmers are demanding to waive off their loans, they are being put in jail. Are you going to trust such a party?" -- ANI