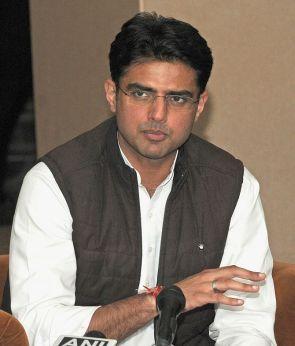 The era of "rani-praja" in Rajasthan is over and no amount of campaigning and propaganda will bring the BJP back to power in the state, says Congress leader Sachin Pilot in a swipe against Chief Minister Vasundhara Raje and her 'royal' lineage.
Criss-crossing the desert state in a bid to bring the Congress back to power, Pilot said the BJP's rule in the state has seen corruption being patronised. But this would change with the assembly elections on December 7, he said.
"The regime of rani-praja' (queen-public) is going to be over in Rajasthan and people will vote for Congress on December 7 to bring in positive government.
"The BJP has been exposed and people are counting the days... they have made up their mind to vote out BJP, Pilot told PTI during his campaign through eastern Rajasthan on Sunday.
He started his day from Jaipur, where he boarded a chopper to Raje's home turf Dholpur to address a meeting.
The Pradesh Congress Committee chief said he is overwhelmed by the response the party is getting and the impact of this will be visible on December 11, when the results are announced.
In Pilot's view, the BJP has touched a new low in politics by spreading negativity and false propaganda to mislead people and to cover up the failures of its government. The Congress, in contrast, has evolved a positive narrative to usher in a new era of development.
"They (the BJP) were until now doing politics in the name of Ram and have now dragged in Hanuman for politics. I am also a Hanuman 'bhakt' and chant the Hanuman Chalisa, but no one imagined that BJP leaders would make such comments on Hindu gods," Pilot said.
Uttar Pradesh Chief Minister Yogi Adityanath had said in Alwar during a rally last week that Lord Hanuman was a dalit.
According to Pilot, BJP leaders had ignored the plight of people and were absent in the last five years.
"No amount of campaigning will now save the BJP... The people of Rajasthan suffered immensely in five years. Today, when leaders of the BJP are coming to campaign in Rajasthan, they have no answers to questions about the plight of the people," the 41-year-old said, driving himself from the helipad to the site of the rally and acknowledging the waving crowds.
"Not one of the BJP's so called stalwarts was there to share the pain and misery of farmers when they were committing suicide... when Dalits and tribals were suffering atrocities. Crimes against women increased under the rule of a woman chief minister. But in these last five years, no one came to share their pain and wipe their tears," he said. -- PTI