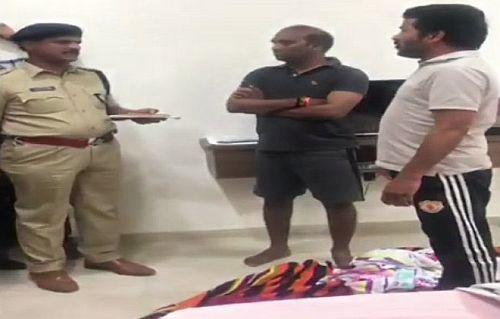 Telangana Congress Working President A Revanth Reddy, who had given a bandh call to protest TRS chief K Chandrasekhar Rao's public meeting in Kodangal assembly constituency, was taken into preventive custody early Tuesday.
"He (Revanth) has been taken into preventive custody in view of apprehension of disturbance of public order and breach of security," Additional Director General of Police (Law and Order) Jitender told PTI.
"He will be released (later) during the day," he said.
Revanth, the Congress candidate for Kodangal constituency had called for a shutdown to protest against Rao's scheduled meeting at Kosigi in the assembly segment this evening. Revanth's wife, Geeta accused the police of breaking open the doors of their house and forcibly taking away her husband to an "unknown location". -- PTI
Image: Telangana Congress Working President A Revanth Reddy (in track pants) was taken into custody this morning. Pic: ANI