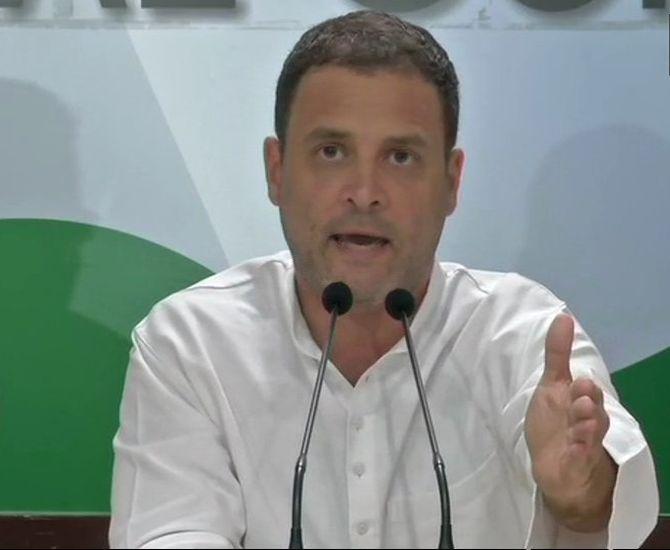 Congress chief Rahul Gandhi today launched a scathing attack on Prime Minister Narendra Modi on the issue of demonetisation, saying he owed the people of the country an answer on why he inflicted such a deep wound when pressing problems like unemployment remained.
Addressing a press conference, Gandhi termed demonetisation the country's 'biggest scam' and alleged that money was taken from common people and given to 'crony capitalists'.
"Prime Minister Modi should answer why he inflicted a deep wound like demonetisation when issues like unemployment and low GDP rate remained," Gandhi said while referring to the Reserve Bank of India's report on the outcome of the demonetisation exercise.
According to the report, over 99 per cent of the banned currency is back in banks.
In a stinging attack, Gandhi also alleged that demonetisation was not a mistake and was done deliberately to attack the people.
Upping the ante on the issue of the Rafale fighter jet deal, Gandhi asked the PM why an aircraft costing around Rs 520 crore was bought at Rs 1,600 crore.
The Congress president also demanded a joint parliamentary committee (JPC) probe on the Rafale deal.
"Why did you buy an aircraft of Rs 520 crore at the cost of Rs 1,600 crore? Who were you (Modi) trying to benefit?" Gandhi asked at the press conference.
Gandhi also attacked Finance Minister Arun Jaitley, saying he was blogging but not saying anything on a probe by a JPC.
Earlier in the day, hundreds of Youth Congress workers took to the streets to voice their protest against the deal they dubbed the 'biggest scam'. -- PTI