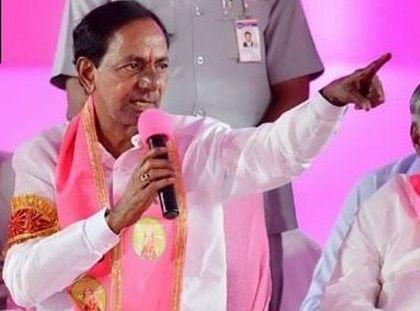 Telangana Chief Minister K Chandrasekhar Rao, who is on a mission to form a non-Bharatiya Janata Party non-Congress alternative, today said he would unite all regional parties in coming months to bring about 'a qualitative change' in the country.
"The way we created an earthquake and persuaded the country's political system and realised Telangana state; in a similar way, we will unite the country, move like a bird and unite all regional parties in the coming two-three months to bring about a qualitative change in the country," he said.
He was speaking at the 17th formation day Pleanary of the ruling Telangana Rashtra Samithi in Hyderabad.
A resolution was passed unanimously at the Plenary authorising Rao to take appropriate decisions on forming the proposed federal front. Rao, who has recently met West Bengal Chief Minister Mamata Banerjee and former prime minister H D Deve Gowda as part of his move, said he would meet Dravida Munnetra Kazhagam working president M K Stalin on April 29.
Stalin had two days ago 'endorsed' Banerjee's efforts to bring together various parties against the BJP.
Rao said Samajwadi Party leader and former Uttar Pradesh chief minister Akhilesh Yadav would come to Hyderabad to meet him on May 2.
"We are speaking to many others," he added. In a sharp attack on the Congress and BJP, he said the two parties must explain why the country remained backward on various fronts as two parties had ruled the country for most of the period since independence.
He said nature or God had given the country 70,000 TMC of water, yet neither the farmer gets water for irrigation nor drinking water was available. Sarcastically asking who gave this 'gift', he said 'the prime minister of the day (Narendra Modi), also former prime minister Manmohan Singh and the presidents of the two national parties, Amit Shah
ji
and Rahul Gandhi
ji
, should answer this. Seventy years have passed and you have run government. Both of you ruled for 65 years'.
Rao claimed that the country remained backward in various areas, including ports, airports, roads, inland waterways and even life expectancy.
Questioning why subjects like agriculture, health and rural roads remain with the Centre, he alleged that state governments had been reduced to worse than municipalities.
Instead, the Centre should take care of issues like Kashmir where Pakistan was provoking every day and international diplomacy, Rao said. He claimed that his move to forge a non-Congress, non-BJP alternative has rattled both the parties.
"(Congress president) Rahul Gandhi says KCR is Narendra Modi"s agent. I did not understand. Have only Congress and BJP taken the contract to talk about national politics? Others do not have the right?" he said.
Rao also dared Telangana state Congress president N Uttam Kumar Reddy to prove his claim that there were 150 rooms in his (Rao's) newly-built official residence.
Rao, who is the president of TRS, said 'a massive' public meeting would be organised either in October or November and 'others' would be invited for it. --
PTI