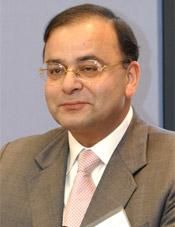 Arun Jaitley, Leader of the Opposition in the Rajya Sabha, speaks exclusively on India-US relations and the Bharatiya Janata Party's expectations from US President Barack Obama's visit to India.
On the issue of India-US relations, the BJP has fundamental differences with the Left parties. The Left is obsessed with anti-Americanism as a part of their geo-political vision. The BJP has no such issue. We are primarily governed by our nationalistic philosophy.
We genuinely believe that good India-US strategic ties in various fields are absolutely necessary -- whether it is security, space or trade. We are in favour of strengthening India-US ties.
During (then preie minister) Atal Bihari Vajpayee's regime after the Pokhran nuclear tests we took effective steps to ensure that relations are restored and strengthened.
America's primacy in the global economy cannot be understated, even now. India cannot remain isolated from the global mainstream.
If you ask me for a broad big picture, I will say we stand for cordial and close relations with strategic parity with America.
In many bilateral areas we are guided by our 'India First' attitude.
When the India-US nuclear deal was signed we thought narrowing down or closing of India's nuclear options was not in the interest of Indian defence.
We took the stance because our neighbourhood is fragile and we have China and Pakistan, two nuclear powers in close proximity.
We know we have defined a 'no first use' policy for nuclear weapons and we only want a minimum deterrent policy but still we opposed narrowing down of India's nuclear options.
Rightly or wrongly, the Government of India went ahead to sign the nuclear deal. Unlike the Left parties we were not opposed to the idea of a civil nuclear pact or a liability act.
We wanted a fair and just mechanism to be worked out between the two countries. The government had drafted a very inadequate amount of liability in case of an accident.
We worked that out. Americans wanted complete immunity to be given to suppliers of nuclear power plants. We disagreed and I am glad that government agreed with us. As a result, the overwhelming majority has passed the liability bill.
I presume the Congress and the BJP's position is the same on the issue as we have voted for the bill.
Whenever visiting American leaders have told us in their private meetings about how they value their relations with our party, I have always told them that their act of denying a visa to our leader Narendra Modi is an unfriendly act and the US must revise its visa policy.
There are areas of concern in India-US relations. The present regime is becoming increasingly protectionist.
Globalisation and the World Trade Organisation mechanism continued to prosper as far as it suited the global powers. Then you narrowed down the parameters of global trade and in sectors that you felt the low-cost economy will benefit, you changed the rules.
The US is becoming more protectionist because it suits them now. In this case multilateral trade would be adversely affected.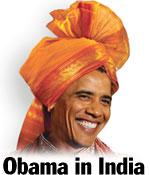 On the eve of the presidential visit, India expects the US to take two clear positions. The US policy on global terror is well known. It should be first applied to Pakistan with equal force.
So, what is true of western border of Pakistan must be equally true of its eastern border.
It can't be that Pakistan is an ally in the Afghan region so Americans go soft on them. As far as India is concerned Pakistan instigates terror here. So, we want America to maintain the same standard of sensitivity to terror to apply against Pakistan's western and eastern borders.
As far as Kashmir is concerned India's dignity and sovereignty must be respected.
You can't allow Pakistan to first use conventional war, then, soft-border terrorism and now instigate mob violence to destabilise the area. The Americans should firm up.
India would never accept the situation where to give comfort to Pakistan because of its cooperation with Americans on its western border America wants some concession for Pakistan on its eastern border.
This will never be acceptable to any Indian.
On the issue of the US wanting India as a counter-balance to China, a lot is being said. China should recognise that India is an alternative power in the region.
China has almost settled its boundary disputes with its neighbours. Now, to keep open its border dispute with India is something unexplainable.
Under the garb of a Pakistan-friendly attitude it is encircling India, but that won't dilute tension in the region.
We have our own way of doing things with China.
As a part of India's larger strategy we want strong India-US relations.
We welcome Barack Obama, head of the world's most powerful democracy.
I am sure his speech in the Central Hall of Parliament will reflect the hopes of both countries for a better understanding.
As told to Sheela Bhatt.