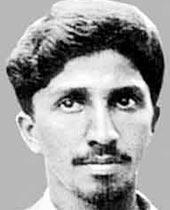 T Naseer was a prized catch for the Indian security agencies. The man the intelligence agencies claim is Lashkar-e-Tayiba's chief of southern India was picked up from the Bangladesh border a month ago. A dossier on him prepared by the Bengaluru city police provides more information on Naseer.
Name: Thadiyantavida Nazer aka Haji aka Ummer Haji aka Khalid.
Date of Birth: April 23, 1977.
Nationality: Indian.
Educational Qualification: Class 9 pass. Certificate course as an AC mechanic.
Parentage: Father, Abdul Majeed Kambatavida; mother, Khadeeja.
Languages known: Malayalam, Arabic, Hindi, Urdu.
Political affiliation: Member of the Peoples Democratic Party; an active member of the Majlisthul Thabiyathul Muslimeen, the PDP's secret wing.
Visits Abroad: Saudi Arabia, Bangladesh.
Physical description: 5'10", slim built, medium complexion, long face, sharp nose, sharp gaze, a big mole on left leg just below the knee and a mark on the left forehead.
Naseer's confession:
'The terror threat looms larger over northern India when compared to the south. There are 26 very powerful sleeper cells in north India which are awaiting orders from the Lashkar-e-Tayiba in Pakistan. One call from our Lashkar bosses would be sufficient for these cells to activate and carry out strikes. The Lashkar has focused largely on north India.'
'The number of such active cells in south India currently is just three.'
'I escaped to Bangladesh soon after the Bengaluru blasts and took shelter with my co-brother (they are married to sisters) Shafaz in Halishahar in Chittagong. I did this at the behest of my Lashkar bosses in October 2008. It was during this time that I heard from a person by the name Shamshuddin, a Pakistani national and a Lashkar operative, that there are 26 active sleeper cells in north India.'
'During the entire operation of the Bengaluru serial blasts, I never stayed directly in touch with the Lashkar. We used to talk to the bosses through another operative by the name of Sarfaraz Nawaz, who was based in Muscat at that point of time.'
'Nawaz contacted me after the army attack on the Lashkar camp in Kashmir, in which five youth from Kerala were killed. Immediately after getting information, I traveled to Mumbai. From there we contacted Nawaz and sought his help to flee the country.'
'He told us to get in touch with a man by the name Zaildeen, an agent who would in turn help us cross the border to Bangladesh. We were told that we should pay him Rs 3,000 for the help he was rendering.'
'We left for Howrah and contacted him. He asked us to reach the Bankapura Gate, which is on the India-Bangladesh border. We reached this place by bus. From here we were taken on a boat, and on reaching Bangladesh, we were handed over to a couple of youth over there.'
'Before the youth could take us, there was some confusion and we were asked several questions. We dropped the name of Zaildeen and then the confusion was cleared. We were then kept in a hut for two days before being taken to Dhaka by bus.'
'At the Dhaka bus stand we met Salim, another Lashkar man, and from there we were taken to the Cox Bazaar area, which is on the coast. During this period we were asked to keep changing our place and we had to change at least 11 hotels during this time.'
'There was major confusion during this time since the 26/11 Mumbai attacks had taken place. The Bangladesh police started to search for Salim, and finally they picked him up and handed him over to the Pakistani government.'
'I was informed that we would not be sent to Pakistan. The Lashkar in Pakistan wanted us both to shift permanently to the Gulf and handle operations from there. I managed to get in touch with Nawaz during this time and he managed to arrange for some money.'
'Another operative by the name Asif got in touch with us and gave us an e-mail id and password to stay in touch with Nawaz, so that the money could be arranged.'
'We stayed in touch and finally the money was transferred. We received Rs 70,000 through a hawala transaction and we were to use this money to reach the Gulf and set up base.'
'We then visited an agent and sought a Gulf visa to go to Dubai. However, before we could complete the task, we were picked up by Bangladesh detectives and handed over to India.'
Image: T Naseer