Assistant Secretary of State Robert O Blake, the Obama administration's point man for South Asia, in an exclusive interview with rediff.com's Aziz Haniffa, reveals why the US is upset with Sri Lankan President Mahinda Rajapakse.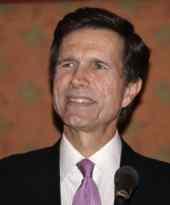 The Obama administration has expressed its deep disappointment with Sri Lankan President Mahinda Rajapakse for relegating the devolution of power in the Tamil majority areas, in the country's northern province, to the back-burner.
The international community had urged the Lankan government to put the motion in process after crushing the Liberation Tigers of Tamil Eelam and its leader Velupillai Prabhakaran.

Assistant Secretary of State Robert O Blake, the administration's point man for South Asia, in an exclusive interview with rediff.com, revealed, "We have been disappointed to hear recent statements by the president (Rajapakse) that he is not going to be in a position to take any measures on the devolution of power until after a presidential election."

Blake, who until recently was the United States ambassador to Sri Lanka, before assuming his new position as Assistant Secretary of State for South Asian Affairs, said the US believes "something needs to take place more quickly than that and we certainly are encouraging the government to do so."

More than 250,000 Tamil refugees, who fled the war between the LTTE and the Sri Lankan army in the country's strife-torn north more than two months ago, continue to languish in the makeshift camps for internally displaced persons (IDP).
Asked what the latest US position on Sri Lanka was, Blake said, "We have encouraged progress on two particular fronts."

"First, on the humanitarian front, there are still more than 250,000 internally displaced persons who are residing in camps under detention conditions, and so we have encouraged the Sri Lankan government to allow them freedom of movement, and more importantly to allow them to be resettled as quickly as possible," he explained.

Blake pointed out that the Sri Lankan government "has pledged to resettle the majority of the IDPs by the end of this year, which would certainly be a very welcome step."

"So, we just encourage rapid progress towards that goal, but also steps (should) be taken so that the international community, the United Nations and the International Committee of the Red Cross and others have access to the camps, so that the IDPs can be assured of receiving treatment and everything that goes on there is up to international standards," he said.

"Secondly," Blake added, "We hope that our friends in Sri Lanka will make progress towards political reconciliation because really that's the only way that there's going to be a definitive end to terrorism. And that means figuring out ways to have a dialogue with the Tamil community."

This includes "the wide Tamil community inside, but also outside Sri Lanka, about exactly what those measures should entail," he said.

He emphasised that this "needs to take place sooner rather than later."