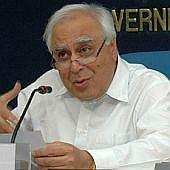 The Institute of International Education will honour Union Human Resource Development Minister Kapil Sibal during its annual international awards gala on September 21 in New York City.
Sibal will be honoured for his 'vision of global education and commitment to internationalising Indian higher education, especially through partnerships with US institutions, promises to provide greater higher education access across India and open India's doors to increased global collaboration,' IIE announced on Tuesday.
Sam Pitroda, advisor to Prime Minister Dr Manmohan Singh, and co-chair for the event, will join IIE in presenting Sibal with the Stephen P Duggan Award for Mutual Understanding.
Duggan is the founder of the institute.
IIE's Center for International Partnerships in Higher Education is working on a special partnership initiative this year between US and Indian higher education institutions.
The institute has recently published a book on educational exchange between the US and India.
More than 450 business, education, government, foundation and policy leaders are expected to attend the gala to celebrate the award winners' commitment to international education.
Among others the IIE will also present Microsoft with the Opening Minds Corporate Leadership Award in recognition of the company's global philanthropy and outstanding commitment to corporate social responsibility and education in communities around the world.
The IIE, a private not-for-profit organisation founded in 1919, is dedicated to international exchange of people and ideas.
Image: Union Human Resource Development Minister Kapil Sibal