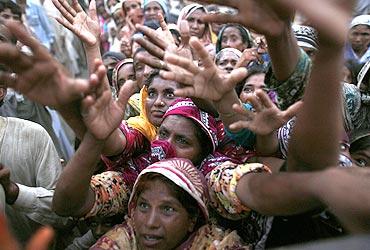 The Pakistan government has been blamed of politicising flood relief efforts after it revealed plans to name new towns built for flood victims as 'Benazirabad,' after the former slain premier Benazir Bhutto, a report in Telegraph.co.uk stated.
President Asif Ali Zardari, husband of the assassinated leader, discussed the controversial proposal at a meeting of the ruling Pakistan People's Party, the report stated.
However, opposition politicians condemned the idea as an attempt to exploit reconstruction work to raise support for the governing party.
A spokesman for the opposition Pakistan Muslim League-Nawaz party, said: "It's a national catastrophe so an apolitical approach is needed. President Zardari should rise above political considerations and should not be using political personalities' names for political gain."
Eight million people are still in desperate need of help, more than a month after torrential monsoon rains swept away roads, bridges and a million homes.
However, relief efforts have been hit by a sluggish response from donors -- amid fears that cash may be misused.
Meanwhile, the military head of the country's disaster response unit has reported receiving phone calls from prominent politicians urging preferences in delivering aid to their constituencies or asking choppers to rescue their relatives, the report added.
On Thursday, the United Nations warned that funding had 'almost stalled' and contributions had raised less than two thirds of $460 million required to keep disease and hunger at bay in flood-ravaged areas.
For now, emergency relief remains the priority, but the Pakistan government is planning to build 10 or more new towns across the country to help house families made homeless by the floods, the report stated.
A spokesperson for President Zardari, said they would be built with a mixture of public and private money, and that officials had approached the Asian Development Bank for a loan to help the construction, the report added.
Each town would house up to 10,000 people. However, he added that Benazirabad was only one of a number of possible names.
"The final decision has not yet been taken," he said.
Image: Flood victims reach for food handouts donated by an aid group in Pakistan's Muzaffargarh district
Photograph: Damir Sagolj/Reuters