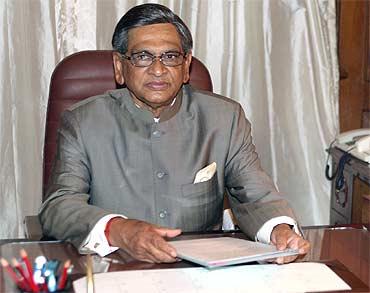 In an interview to
CNN-IBN
, External Affairs Minister SM Krishna talked about terrorism, India's ties with Pakistan and his proposed visit to that country.  
Here are the excerpts:
Mr Krishna it isn't just a year of UPA-2, but this week also marks one year of your being External Affairs Minister- how do you think you've done?
Well, I think we have done reasonably well in the last one year. We have tried to improve our relationship in the last one year with our neighbours and made an earnest effort to improve our relationship with the rest of the world. To a large extent, we have been successful
Yet according to a CNN_IBN survey - where we interviewed a group of analysts and experts- they felt that the foreign ministry may have got some grip on affairs, but the main cause of concern is the MEA handling of Pakistan. On both trying to get Pakistan to accept India's demands on terror. But also in convincing the nation of its policy on Pakistan, particularly what happened at Sharm-el-Sheikh?
From Sharm-el-Sheikh we have moved on to Thimphu and then to the telephonic conversation with the foreign minister of Pakistan. Pakistan has been one of our most difficult issues. It causes considerable concern. In the backdrop of the attack on Mumbai naturally the country is worked up. The one who has been apprehended and tried has been now sentenced and the world at large must be satisfied that the due process of law has taken place in India. To that extent we have dealt with Pakistan on the more substantive issues.  I think we made some kind of breakthrough when the two PMs met, and I was also present when they met in Sharm-el-Sheikh too. I found in Thimpu there has been greater affinity and impact in the discussion that took place between the PMs. In Thimpu for the first time the Pakistani prime minister assured us, of course they have assured us earlier also that Pakistan soil would not be used for anti-India activities.
In Parliament you referred to that change. You called it the transformation in terms of the assurances you are getting from Pakistan. Could you explain that what kind of transformation are you seeing? Because on the face of it we haven't seen any action of the kind that India has been demanding when it comes to apprehending the masterminds of  26/11?
When I said transformation I mean that a new beginning has to be made and for that new beginning both the countries must be ready. I found in Thimphu that the mindset of Pakistan is ready to accept a transformation and that was the reason why they invited me to go to Islamabad for pursuing our talks. My visit to Islamabad is with a view to set the trust element between ourselves. The lack of trust arises because we are not talking to them. We should talk to them freely frankly and be prepared to hear from them what exactly they are willing to tell us.
Significant enough that you are speaking of a change in mindset in Pakistan, because many are saying that in effect India has accepted its failure in persuading Pakistan. That the fact that you are willing to re-engage, willing to start afresh is an acceptance you can't get Pakistan to do what you were willing to on issues like  Hafiz Saeed?
Let us give them the benefit of doubt Take for example, the Hafiz Saeed issued- based on the dossier we handed over to them they arrested Saeed on several occasions- on both occasions it is the court of law that intervened and they released him. Let us accept that there is also a due process of law in Pakistan for example,  at some times the judiciary in Pakistan is very pro-active- keeping that in mind if they had investigated properly in the manner in which we would have done in India perhaps they could have made a good case.
You are saying the problem is the investigation, not the intent. Your optimism isn't shared by your Cabinet colleague. Home Minister P Chidambaram spoke on our channel. He said very clearly that Pakistan doesn't want to act on Hafiz Saeed. He talked about government still supporting infiltration in Kashmir. He spoke about support to LeT by Pakistani government. Is the government speaking in two voices?
The home minister is right on every count. The home minister is also right that Pakistan will have to show greater resolve to tackle those elements coming in the way of good neighbouring relations with countries. It is up to Pakistan to act. The Home Minister is going ahead of me and he is going to meet the Pakistani leadership and he is going to place all the facts so far collected with reference to terrorist activities directed against India from Pakistani soils by Pakistani nationals. I am sure he will be able to present India's case and then let us see what is the response from the Pakistani side and then he is going to come back and present his assessment and that will be the basis on which our discussions will proceed. Unless there is action on terror, perhaps I might go to Islamabad and foreign minister Qureshi might come to Delhi, things at the government level I am afraid will remain the same. We would like to make a major breakthrough on terror.
But will you be returning to the composite dialogue?
If you look at the Thimpu text, there is nothing about the dialogue at all -- the mandate for the foreign ministers and foreign secys is to bridge the trust deficit. That is going to be the main theme of our discussions. How do we eliminate this distrust is the central pt of our dialogue- that will be the starting pt and if we can hit common ground then other substantial issues can be taken up.
The environment minister visiting China and openly criticized the government saying it is really becoming tough for Chinese company to work in India as a result of the home ministry's policy. Have you had to do the damage control on this?
Ministers when they make statements, especially from foreign soil, I think they have to be extremely cautious and restrained in criticising the policies of our government regardless of which department it is. I think that sums up my views on the controversy….we should accept also the clarification that the home ministry have given.
But do you really wish your colleagues would not speak on foreign policy?
Every other ministry has something to say about foreign policy formulation and the implementation. For example, defence is intertwined with the external affairs ministry . Home ministry in terms of infiltration, terror. It would be our endeavour to get them on board with our thinking as to how we are conducting our foreign policy and if there are deficiencies we can certainly correct them- there is always room for mid-course adjustments we are willing to do that.