Vaihayasi Pande Daniel meets 'Goli' Chauhan who was born at Mumbai's Cama Hospital at the time that Ajmal Kasab and Abu Ismail Khan were wreaking havoc there.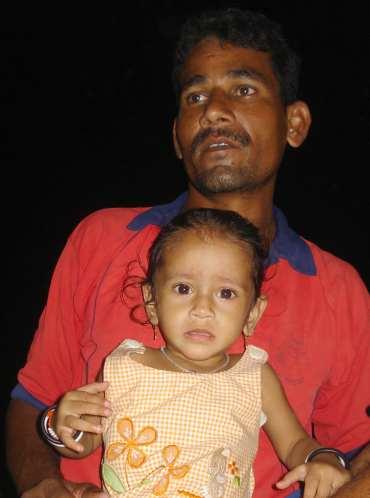 Usko baida jaise rakha hai (They have kept him safe like you would an egg)," says Shamu Chauhan with disgust.
"They have spent Rs 32 crores (Rs 320 million) on him!? If they had given a few lakhs here and there to the poor, think how happy people would have been? And they will continue to spend that kind of money on him. They won't hang him," says the 38-year-old.
We are sitting in Chauhan's handkerchief-size, second-story kholi (room) in Ambedkar Nagar, a bold name for a clutch of some 2,000 tiny, ragtag homes, a few steps away from the Backbay Reclamation bus station in Cuffe Parade, south Mumbai.
It is dusk. The overpowering smell of frying fish wafts strongly out of the umpteen kholis of this sprawling chawl, inhabited by a mixed population of fisherman, labourers, office and domestic workers. It is a stuffy evening. The whir and limited breeze of a table top fan in their home does nothing for the frayed temper of Chauhan's toddler, Tejaswini. She bellows pitifully.
Tejaswini is a tongue twister compared to the nickname the little tot is known by all across Ambedkar Nagar -- Goli.
Deciphering a route to the Chauhans' modest dwelling is an arduous, impossible task -- it narrowly winds past junk shops, temples, tiny chawl stores, confusing forks, before ending below a precarious iron ladder leading upwards. One cannot get there without assistance.
But the magic word is Goli. "Shamu Chauhan ka ghar?' Blank. "Shamu Chauhan jo Sassoon Dock mein kaam karte hai... Unka ghar?" Blank. "Goli ka ghar?" Instant comprehension, just like a tubelight flickering on. "Samajh gaya, samajh gaya. Woh baby jo newswallah se milti hai?" And I am swiftly guided to the Chauhans's doorstep (ladderstep).
Goli aka Tejaswini was born on the night of November 26, 2008 at the Cama and Albless Hospital, a few minutes walk from the Chhatrapatti Shivaji Terminus railway station in the midst of gunfire. She decided to come into the world just as Pakistani terrorists Ajmal Kasab and Abu Ismail Khan were holding the hospital under siege with a thunderstorm of bullets.
A band of heroic nurses and Providence somehow, narrowly ensured that Goli made her passage into the world and her little brother Sheshikant, her father Shamu and her mother Viju, cowering in the darkened ward, escaped unhurt.
Like all survivors of that frightful night, the Chauhans would like to see justice served in the Kasab trial. "Unka haath se aam janata gujar gaya (He caused the death of ordinary folks). Police officers were killed. Uske vajah se log beghar ho gaye (Because of him people lost their homes/livelihood)."
The family has kept itself updated on details about the trial through the teeny television that sits on a rickety wood bracket in a corner of their home, above the large plastic drums of stored water and shining kitchen utensils.
But the Chauhans are more disillusioned than educated Mumbai folk. "They have turned him into a bada (big) terrorist. A don. Like some gradewallah, like cricket ka Sachin. Paal ke rakhe hai (Nurtured him). He won't eat dal and roti in jail. The harami (bastard) wants Biryani! They will keep him alive and continue to spend money and provide him security. They talk about sabut (evidence). What happened to sabut? Pakistan ko ha bola, na bola. He deserves something worse than hanging."
Meanwhile in the intervening time life has not changed too much for the Chauhans. It has gotten tougher. Chauhan still works at the docks, from 5 am to 1 pm, unloading ocean catch for a Sassoon Dock businessman. But it is summer. The catch has dwindled, and he gets only 15 days of work in a month, earning on an average Rs 400 to Rs 600 a day, sometimes if he is lucky, Rs 1,000. He finds part-time work at construction sites anywhere between Navy Nagar in south Mumbai and Dadar in north-central Mumbai or unloads sacks of grain at the main docks, for Rs 200 or Rs 250 a day.
Viju no longer peels prawns at Sassoon Dock to augment Shamu's income. She takes care of the children. Little Jayshree was born a few months ago. "Jayshree was born at Cama too. And we all went there for her birth. The nurses and staff were so delighted to see Goli. But they asked me why I had another child so soon after Goli. Now I have done the operation," says Viju.
Ironically Jayshree was born on February 13 when Pune was racked by a powerful bomb that killed 17 people at Koregaon Park's German Bakery. "One was born when the terrorists came to Bombay. And the other during the Pune blast," the Chauhans tell you with a bemused look.
Eldest child Sheshikant is struggling to get into a good school. Viju and Shamu may be poor illiterate folk -- Shamu studied till Class 8 in a Kannada-medium school in his native Alipur Tanda; Viju has not studied at all -- but they have big dreams for the little ones. Sheshikant has been assiduously attending the Garden Nursery near Badhwar Park, getting As and Bs, supplemented with tuition. But that has not got him a spot into the popular neighbourhood school, the Holy Name convent.
"He cannot speak English well. We speak only our own language at home. It is a dialect close to Marwari that Banjara people like us speak (the Chauhans are Lemani or Lemadi, a gypsy tribe). And they will only give him admission based on an interview. If he does not get in, we will have to send him to a municipal school," explains Shamu.
Sheshikant remains a shy boy. Says Viju, "He gets scared very easily. Even now firecrackers upset him. He asks me if it's terrorists. I tell him: 'No, Diwali is not far away'."
Goli, the miracle child, is something of a celebrity in this neighbourhood. On her first birthday last year a stage was erected on the road in front of the local police station. A local corporator hosted a shraddhanjali (prayer) ceremony for lives lost on 26/11. Alongside a party was held for Goli; she and her brother cut a cake.
"I have big hopes for Goli. Bahut tej hai (She is smart and quick)," confides Viju shyly but proudly. "I want her to grow up and serve India."
Image: Shamu Chauhan with 'Goli'. Photograph: Vaihayasi P Daniel