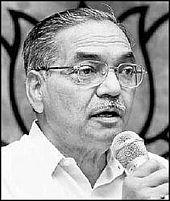 The lone dissent vote against the women's reservation bill in Rajya Sabha was cast by the leader of agriculturists' organisation Shetkari Sangathana, Sharad Joshi.
Speaking in the House on Tuesday, he stressed that two-third of the MPs and MLAs will lose interest in nursing and serving their constituencies as they stand no chance of second term and that include all women representatives.

Sharad Joshi says he is all for women's empowerment, but believes that the bill will only create bitterness against the women's movement and prove fatal to the Indian democracy as two-third elected representatives will be first-timers lacking experience.