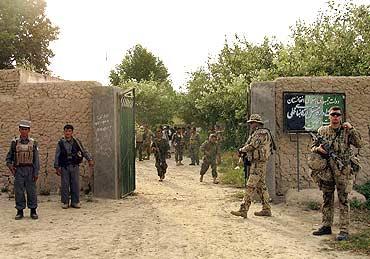 An improvised bomb claimed the lives of five troopers of the North Atlantic Treaty Organisation in Afghanistan while in a separate incident, five other troopers were killed in a volley of attacks in the country's turbulent eastern and southern regions, making it the deadliest day in months for the International Security Assistance Force.
The deaths come before the ambitious plans by the United States to crush the Taliban regime with finality by sending reinforcements of 35,000 additional NATO soldiers.
Pressure has been mounting on the militant outfit to engage in dialogue with President Hamid Karzai's administration in the face of possible US-led decimation.
There are currently nearly 94,000 US troops in Afghanistan, and that number is expected to reach approximately 100,000 in line with Obama's pledge to step up the anti-Taliban offensive. NATO allies contribute another 47,000 soldiers to the war on terror.
Image: German troops and Afghan forces prepare for an operation in the Dar-Qad district of Takhar province | Photograph: Wahdat/Reuters