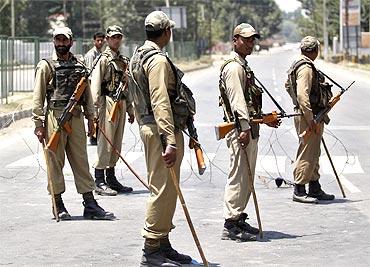 Barring Sopore and Pulwama, curfew was relaxed across Kashmir to allow people to offer special prayers on the occasion of a festival.
The four-day-old curfew was relaxed in the entire valley on Friday night after a high-level meeting presided over by Chief Minister Omar Abdullah to enable people to offer special prayers overnight at the Hazratbal shrine for Shab-e-Mehraj, an important occasion on the religious calendar.
Some protestors came out in the streets in Qamarwari, Naaz cinema, Nowhatta and Maisuma of the city today morning, but they were chased away by the police. Restrictions were imposed in Maisuma after the protests.
People continued to throng the Hazratbal Shrine on Saturday to get a glimpse of a holy relic of Prophet Mohammed. Nearly 4,000 people had gathered during the first prayer at the break of the dawn. Shops and business establishments remained open and traffic was plying normally in the city.
In Pulwama district of south Kashmir, curfew had to be imposed after a media report that one person had died in police firing, which was denied by authorities. People started coming out on the streets despite the administration announcing that the news was not accurate.
Before things could go out of hands, the authorities decided to impose curfew. Kakapora area of Pulwama district had witnessed pitched battle between mobs and security personnel on Friday evening which resulted in injuries to 16 security personnel and five civilians.
Curfew continued to be in force in Sopore. The Jammu and Kashmir police, meanwhile, continued to crack down on stone-pelters and arrested 20 people. Local newspaper failed to hit the stands for the third day today despite authorities lifting restrictions on the movement of media persons in the wake of the curfew in Srinagar and certain other parts of the valley.
However, various media associations decided not to print any newspapers as they claimed that enough passes were not issued. The last time the newspapers did not come out in the valley was in 2008 at the height of the Amarnath land agitation. Newspaper publications had also remained suspended for 40 days during the elections in 1996.
Omar has convened an all-party meeting in Srinagar on Monday to discuss the present situation. The Opposition People's Democratic Party has decided to boycott it saying it was a 'purposeless exercise'.
"There is total distrust between the people and this government. So I don't think any purpose will be served by attending the meeting," PDP leader Mehbooba Mufti had said on Friday.
The invitation was extended to all 12 recognised political parties and groups by Minister for Law and Parliamentary Affairs Ali Mohammed Sagar.
Curfew was clamped in Srinagar on Tuesday and the army moved in to assist the civil administration in maintaining law and order.
Image: Policeman guard an entry point to Srinagar | Photograph: Reuters