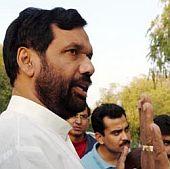 Even as the Janata Dal-United and Bharatiya Janata Party patched up after their recent tiff, Ram Vilas Paswan-led Lok Janshakti Party feels that the whole episode was 'stage-managed' to confuse the people of Bihar ahead of the assembly polls and contends that Chief Minister Nitish Kumar is 'playing the RSS game'.

In an interview to PTI, Paswan said the incident had 'exposed' Nitish Kumar on Kosi flood relief and demanded a judicial or CBI probe to find out the amount of aid received by the state and how much was spent.

"The JD-U and BJP are engaging in shadow boxing. There appears to be an agreement between BJP and JD-U that they would play Hindu and Muslim cards, respectively, to confuse voters," Paswan said while commenting on the recent tiff between the two ruling coalition partners of Bihar.

"It is stage-managed as per the RSS strategy. Nitish Kumar is playing the RSS game," Paswan said, adding that while the BJP was trying to bring Gujarat Chief Minister Narendra Modi to the forefront to garner Hindu votes, Nitish was talking of Muslim Dalits to woo minorities.

"People have seen through this double game and the NDA will pay heavily for it," Paswan claimed.

Last month, Kumar, who belongs to JD-U, had snubbed the BJP by cancelling a dinner for its top leadership after advertisements were published in local dailies showing Modi and Kumar holding hands. He also returned Rs 5 crore given to Bihar government by Gujarat government in 2008 for Kosi flood relief. This led to a war of words.

But later both parties said the issue had been resolved. Not impressed by this, Paswan said if Kumar is 'so worried' about secularism, he should snap ties with BJP. "Kumar is running a government in Bihar along with BJP, whose attitude towards Muslims is known to all," he said.

The LJP leader said if Kumar was 'serious' about his differences with BJP's ideology, he should part ways.

"Similarly if BJP feels humiliated, it should walk out of the alliance," he said.

Talking about return of Rs 500 crore Kosi aid money by Bihar government to Gujarat, the LJP chief said the episode has 'exposed' Nitish Kumar on the relief programme.

Alleging that the Bihar government did not spend the money it got from various quarters for flood relief work, Paswan demanded a CBI or judicial probe to find out how much aid was received and what actually was spent.

He also hit out at Kumar for demanding that Dalits among Muslims should be accorded Scheduled Caste (SC) status, saying it is just to 'mislead' the Muslims.