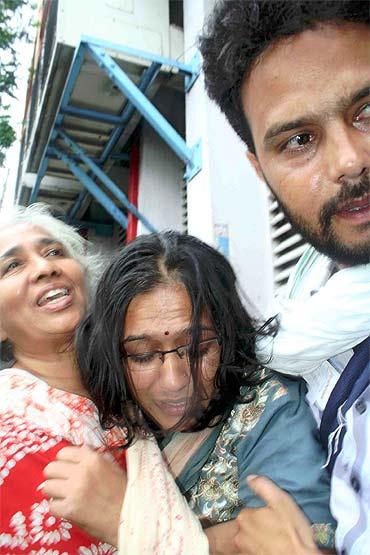 The body of Hemchandar Pandey, the man who was killed along with the top Maoist leader Cherukuri Rajkumar alias Azad by the Andhra Pradesh police in Adilabad district on July 2, was brought to Hyderabad on Tuesday and was kept at the Basheerbag Press Club.
His wife Babita accompanied the body from Bellampally town, where it was preserved for the last three days at the Singareni Collieries hospital there. The authorities handed over the body to the family members after completing the legal formalities.
Babita, who arrived from Delhi on Monday along with Pandey's younger brother, had gone to Adilabad district to bring the body.
While Babita claims that Pandey was a journalist who had gone to Nagpur to interview Azad, and both of them were picked up and killed in a fake encounter, the police say he was also a Maoist and was killed in a 'genuine encounter' on Friday.
Babita holds the central and the state government responsible for Pandey's death, and says that she will knock on the doors of the Supreme Court for justice.
Babita also met Andhra Pradesh Home Minister Sabita Indra Reddy in Hyderabad and demanded a judicial inquiry into the incident. "I have the credentials to prove that he was a journalist working for newspapers," she told the minister.
When Reddy drew her attention to a statement issued by the Communist Party of India-Maoist that he was a member of the organisation, Babita said that she was not concerned with that. "I have proof that my husband was a journalist," she insisted, adding that he was killed in a fake encounter.
However, the home minister did not give any assurance to her except saying that she will talk to Chief Minister K Rsoaiah and Director General of Police R R Girish Kumar. The minister also did not accept her demand for financial assistance to take the body to Delhi for funeral, and even the money to bring the body from Bellampally to Hyderabad was contributed by some journalists in Hyderabad.
Image: Hemchandar Pandey's wife Babita (centre) in Hyderabad on Tuesday  Photograph: SnapsIndia