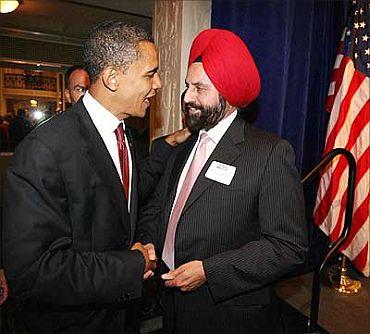 Elated for being selected for the prestigious Padma Bhushan awards by the Indian government, noted hotelier Sant Singh Chatwal on Tuesday said it was the recognition of his services in working towards strengthening of Indo-US relationship for the past several decades.
"I am very grateful to the government of India that after such a long time they have really recognised the services; that they are putting the trust in me and honouring me with their most prestigious civilian award," Chatwal said.
"I have always endeavoured to work towards building India-US relationship," he said.
"I single-handedly worked in 2006-07 for the Indo-US civilian nuclear agreement to make sure that it went very successfully," he said.
Chatwal, who runs successful chains of restaurants and hotels, said he has worked tirelessly on Indo-US relationships since the 1980s.
He is a known friend of former US President Bill Clinton and Secretary of State Hillary Clinton.
BJP has expressed its disappointment over the government's decision and sent a letter to President Pratibha Patil and Prime Minister Manmohan Singh demanding that the honour should be taken back.
"It is recognition of India as a great friend that US President Barack Obama hosted Prime Minister Manmohan Singh as his first State Guest," Chatwal said.
"I feel honoured that the Indian government, Indian authorities have recognised me with Padma Bhushan awards. It is grateful to see that they have put faith in me," he said.
Asked about Indo-US relationship in the Obama Administration, Chatwal said: "The relationship between the United States and India is going forward excellent, moving forward in a great spirit."

Obama would be visiting India later this year, he said.


Image: File photo shows Sant Chatwal with Barack Obama in Washington DC
Photograph: Snapsindia