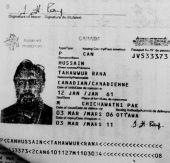 The family of alleged Lashkar-e-Tayiba operative Tahawwur Rana, who has pleaded not guilty to charges of plotting the 26/11 Mumbai attacks, feels he has been framed in the terror plots and is "honest" and "innocent".
'All I know is that Rana is innocent... He is very honest and god fearing. He will share his last morsel with a man in need. I do not know how he got involved in all this,' Rana's father-in-law Rana M Akhtar told a TV channel in Chicago.
Akhtar said Rana had gone to Pakistan since his grandmother had died. Since he was in Pakistan, he decided to go to India as well. He applied for a visa and went to India after he got the visa, Akhtar said.
"Once there, he decided to visit the Taj. What is wrong with that? Everybody wants to see the Taj. It was closed because it was Friday and so he had to stay the night and now the Indian press has gone and harassed our family in India asking them all sorts of questions about Rana," he said, adding all his five children are doctors and are all honest.
"They have never even smoked a cigarette. I do not know how this happened".
Prosecutors allege that Rana was in Mumbai and travelled to Dubai five days before the November 26, 2008 attacks in Mumbai that killed 166 people, including foreigners. They have also submitted as evidence an Al-Qaeda DVD recovered from Rana's house, which he says was given to him by Headley.
Akhtar said while he does not know co-accused David Headley personally, he has "seen him" and Headley's wife comes to their store in Chicago.
Akhtar said he is confident that justice will prevail and Rana would be freed because he is innocent. Rana moved to the US in 1994. He became a permanent resident of Canada in 1997 and a citizen in 2001. His father and brother, a reporter with Hill Times, live in the Ottawa area.
In 1995, Rana bought a modest red-brick bungalow in Chicago's far north side, according to Cook County land records.
Rana's family, which includes his wife Samraz Akhtar Rana and three teen-age children, live in Chicago. He owns immigration consultancy firm First World Immigration Services, a grocery store and a slaughterhouse in Chicago.
Family members, including Rana's brother-in-law, presented in court as character witnesses during his bail hearings have said Rana is a "honest, trustworthy and non-violent" person.