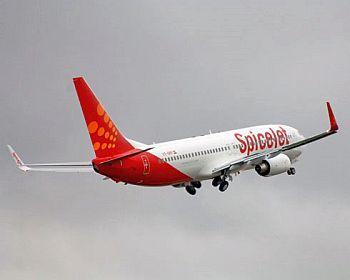 About 70 passengers of a Visakhapatnam-Mumbai SpiceJet flight had a harrowing time during their stopover at Hyderabad where they were stranded for the entire night as the airline failed to fly them on their onward journey.
It all began when 150 passengers, out of which 70 were bound for Mumbai, checked in at Vizag airport at around 7 pm on Saturday for journey to Hyderabad and from there to Mumbai.

The airline staff informed the passengers that the flight was delayed by half-an-hour. Subsequently, the passengers said, they were told that the flight had been cancelled due to non-availability of pilots whose duty hours were over, a claim which was denied by the low-cost airline.
However, the SG 402 flight took off from Visakhapatnam at around mid-night and an hour later reached Hyderabad where the airline staff informed the Mumbai-bound passengers that they could not be flown there due to a "technical problem" in the aircraft.
The passengers said that they were asked to collect their fare refund for Hyderabad-Mumbai sector and left to fend for themselves. "We had to spend the entire night at the Hyderabad airport and we could fly onwards to Mumbai only after buying new tickets in other airlines," one of them said.
"I was supposed to catch a flight to Saudi Arabia from Mumbai, which I have missed. Now I have to bear a loss of more than Rs 15,000," a passenger, Praveen Kumar, said.

Another traveller said he could take the flight for Mumbai at 11.30 hours on Sunday after having spent over 10 hours at the airport.

When contacted, a SpiceJet spokeswoman denied that pilots had refused to fly the aircraft and said it was delayed at Visakhapatnam due to a technical problem.
Supriya, another passenger, claimed the airline staff was "discourteous" and "harassed us" by offloading their luggage at Hyderabad airport without offering an alternative flight to Mumbai.
Himanshu, another passenger for Mumbai, said he had to spend Rs 11,800 to buy a fresh ticket to Mumbai in another airline after being stranded for nearly 15 hours at Visakhapatnam and Hyderabad airports.