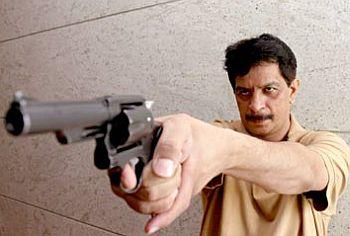 Mumbai Police encounter specialist Pradeep Sharma has been arrested along with two constables in connection with an alleged fake encounter case in 2006.
Sharma, who was involved in over 100 encounters, was arrested on Thursday night and produced in court on Friday.
The arrest comes in the wake of investigations made by a Special Investigation Team (SIT) appointed by the Bombay High Court into the alleged encounter of gangster Ram Narayan alias Lakhan Bhaiya on November 11, 2006 near Nana-Nani park in suburban Versova, officials said.
Lakhan's brother, advocate Ram Prasad Gupta, had filed a petition in the high court alleging that the victim had been shot dead in cold blood by a police team headed by Sharma.
According to the petitioner, police picked up Lakhan from his house seven hours prior to his death. His family members had then filed a complaint with police fearing that he may be killed in an encounter. They had also sent telegrams to police commissioners of Mumbai, Navi Mumbai and Thane in this connection.
According to the police, Lakhan was close to Chhota Rajan henchman D K Rao.
Acting on a tip off that Lakhan would come in the park, they led a trap for him and in the subsequent encounter between the two sides, Lakhan was killed.
Following the petition, the court had ordered the probe by the SIT team headed by DCP M M Prasanna.