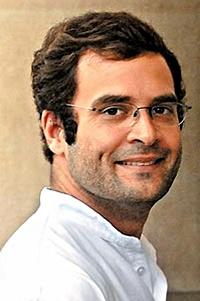 Slowly, Rahul Gandhi is taking a great deal of interest in the United Progressive Alliance government's governance and key programmes.
On Thursday, the Congress general secretary called on Union Finance Minister Pranab Mukherjee at his residence (the first time he paid such a visit) with a Budget 2010 wishlist.
With preparations on in full swing for the Budget presentation, Rahul Gandhi, sources said, pressed his demand on two issues with immediate effect. The first was that he wanted some key youth-oriented programmes -- which leads to employment opportunities-- included in the Budget.
 
The second was the food security bill, tipped as the new flagship programme of UPA-II, along the lines of the NREGA of UPA I. Rahul is learnt to have asked Pranab Mukherjee to ensure that it was unveiled in this Budget.
The food security bill will ensure wheat at Rs 2 and rice at Rs 3 for a record number of households.It will first be brought through the Antodya programme and then would be for BPL and later for even some APL families. The Rs 30,000-Rs 40,000 crore programme, sources say, would cement the UPA government's commitment to the social sector. It was a commitment made by the Congress in its poll manifesto.
Wasting no time, Mukherjee called a meeting of the Empowered Group of Ministers and passed the bill, through the committee, ready to be adopted and incorporated in the Budget.
It is learnt that Mamta Banerjee, who is also a member, could not make it to the meeting as she was away in Kolkata and had wanted it postponed for a few days, but Mukherjee apparently did not want any delay on the matter and went ahead with the meeting.
So far Rahul had been keeping himself confined to the NSUI and the Youth Congress and had been touring various universities and colleges, urging students to join the political mainstream.
His official meeting with the Malaysian prime minister, announced by the MEA, was a step in broadening his own self-defined role. It was another stern step when he travelled to Mumbai to decimate the communal politics of the Thackerays and showcase himself as an Indian cutting across state boundaries.
Read All About The Budget 2010