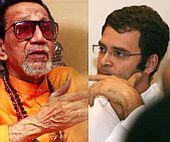 Shiv Sena on Wednesday stepped up its attack on Congress leader Rahul Gandhi on the 'Mumbai for all Indians' remark, raking up Sonia Gandhi's foreign origin.
'Mumbai may belong to all Indians but how can it belong to an Italian mummy,' Thackeray said in an editorial in Sena mouthpiece Saamna.
'The 'Prince of Congress' is totally frustrated and it is in this frustration he has insulted Marathi people and Maharashtra,' he said.
The Sena leader said Mumbai was not a dharamshala (guesthouse) of the country that 'anyone comes to Mumbai, spits here and leaves'.
Referring to the 105 people killed during the Sanyukta Maharashtra Movement dating back to the 1920s, he quipped, 'Have 105 martyrs sacrificed their lives so that Mumbai becomes a dharamshala (guest house)'.
'Saying that Bihari commandos protected Mumbai during the 26/11 attacks is like insulting the sacrifice of policemen like Hemant Karkare, Vijay Salaskar, Ashok Kamte and Tukaram Omble,' he said, referring to the Congress leader's remark that NSG men from North India were involved in vanquishing terrorists during the terror attack.
Mumbai belongs to Maharashtra and Marathi people, Thackeray maintained and added that 'If anyone is going to murder this truth, he will have to face weapons of Maharashtra'.
The Congress leader had on Tuesday asserted that India is for all Indians and people have a right to go anywhere. "I am really not interested in what Bal Thackeray or Raj Thackeray have to say. Frankly, I am interested in one concept that India belongs to Indians and every part of India belongs to every Indian", he had said at a press conference in Patna.
"In Mumbai (during the 26/11 attacks), men in the NSG were from Bihar, UP, Gujarat, Himachal Pradesh and Maharashtra. At that time they (Sena) did not say that those from Bihar and UP should be taken out. India has to move forward and all have to be taken forward," he had said.