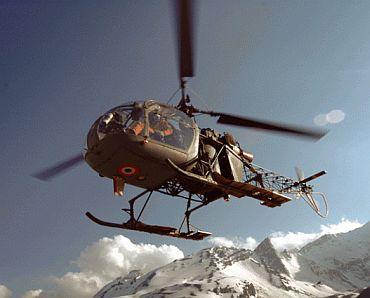 Six Cheetah helicopters of the Indian Air Force undertook over 60 sorties to evacuate 90 people from Skyu in Zanskar valley since sunrise, on Monday.

About 130 trekkers, predominantly foreigners from 12 different countries and a few Indian porters were reportedly stranded at Skyu, a location only reachable by Cheetah helicopters owing to flight through narrow constricted valley and not negotiable by the large rotor Mi-17 helicopters.

Others negotiated their way to safer places on their own.

Touchdowns were not feasible at Skyu, which had virtually transformed into a vast dissolving island where none existed earlier. However, IAF choppers pilots carried out the daring rescue efforts at low hover -- a challenging flight manoeuvre of keeping the aircraft stationery -- perilously close to the ground even as passengers boarded the flight.

Each Cheetah helicopter can only take in a maximum of three passengers at sea level, on board at a time. 

The breakdown of the 81 foreigners rescued includes United Kingdom-17, France-17, Netherland-9, Czechoslovakia-8, Germany-7, Israel-4, Switzerland-4, Romania-4, Austrian-3, Australia-3, Italy-3 and Spain-2. Six local guides and three porters were also among those evacuated. 

Three IL-76 sorties also airlifted two JCB (excavators) and one 22-Ton Bulldozer apart from 6 Ton load of BSNL equipment and 10 Ton load of Army's communication equipment including cables from Chandigarh. 

Six AN-32 also flew air maintenance sorties from Chandigarh replenishing stocks and relief materials for the Army in the region. IAF aircraft earlier on Sunday had already airlifted medical equipment, medicines and paramedical personnel to Leh from New Delhi and Chandigarh.