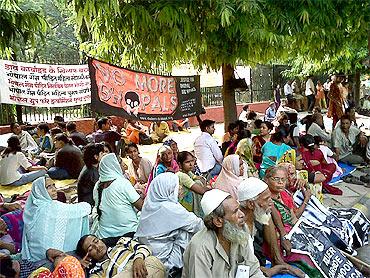 'Stop betraying Bhopal', said five Non-Governmental Organisations from Bhopal, during a demonstration at Jantar Mantar, gathered to express their outrage at the unfulfilled task of paying compensation to Bhopal gas tragedy victims.
"In 26 years, the government compensated only 40,000 victims out of 5 lakh identified victims. It is a matter of shame. We are here to remind government of its over-pending task," told Vivek Triparthy, an activist told rediff.com.
In a letter to the prime minister, the NGO representatives demanded that government should review the compensation amount recently announced by the Group of Ministers (GOM) as it's based on 'notoriously flawed assessment system'.
The letter also asked for a thorough review of death claims for which compensation was "wrongfully denied". Also included is exposure-related deaths after 1997.
Apparently, the government had ceased the registration of exposure-related death in 1997.
The activists feel that wounds of the ghastly Bhopal tragedy can never be healed, but providing adequate compensation and social rehabilitation to the victims is the least that the government can do.
Student activists demanded strict legal action be taken against the Union Carbide Corporation through song and street plays that had the crowds glued.
Image: A scene from the demonstration in New Delhi.