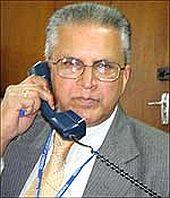 The government on Friday said the probe into bulletproof jackets scam, in which a home ministry officer has been arrested, is on and it was trying to find out whether any other official was involved in it.
"Investigation has just started. An FIR has been lodged. They are probing it," Union Home Secretary G K Pillai said.
When asked whether the probe was looking into the involvement of any other officials of the Home Ministry, he said, "Let the investigation be over."
Central Bureau of Investigation had on Thursday arrested home ministry official R S Sharma (1984-batch Indian Railway and Engineering Services officer), R K Gupta, owner of Anjani technoclass Ltd and his wife Laveena Gupta on graft charges in the purchase of bulletproof jackets.
All three were produced before a city court in Delhi, which remanded them to two days police custody.
Addressing a press conference in New Delhi on the ministry's performance during April, he said the go-ahead for purchasing 59,000 bulletproof jackets for Central Paramilitary Police Force personnel has also been given.
"Approval has been granted for procurement of 59,000 light weight BP jackets at the cost of Rs 103 crore," Pillai said.
The MHA had floated a tender for procurement of 59,000 bulletproof jackets for Central Para Military Forces in July, last year, which ran into controversies after allegations of manipulation and discriminatory trial of samples of private firms participating in the tender were raised. The controversy led to re-evaluation of tender and re-trial of sample bulletproof jackets.
The home secretary said approval for the procurement of 378  automatic grenade launchers and related ammunition at a cost of about Rs 184 crore was also given.
The ministry has sanctioned amount totaling Rs 342.29 crore for acquisition of land and construction of buildings or hospitals for CPMFs.
In April, 2010, the amount of pension to militancy-hit old persons and handicapped persons was increased from Rs 500 to Rs 750 per month, the HS said.
To a question on peace talk with the United Liberation Front of Asom, Pillai said, "State and Central government have discussed the issue. We are waiting for a response from the Chief Minister of Assam. When we get the response of the Chief minister, we will be initiating the talk with or without Paresh Baruah."
Citing the report by the one-man Inquiry Committee of E N Ram Mohan, IPS (Retd) into the Dantewada incident in which 76 security personnel were killed, he said "till date, Rs 28.50 lakh have been paid to each of the 74 next of kin."
As per the report, which is currently under consideration of MHA, each NOK of the deceased CRPF personnel is entitled to receive total of Rs 38.50 lakh. 
Image: Home Secretary G K PIllai