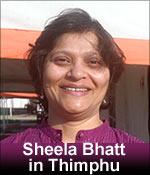 The arrest of Madhuri Gupta, a diplomat working in the Indian High Commission in Islamabad, on charges of spying will have an impact on the mood of the ongoing South Asian Association for Regional Cooperation summit in Thimphu because the matter is related to India's national security.
Gupta, 53, a promotee officer of the ministry of external affairs, was arrested in New Delhi four days ago.
"We have a reason to believe that an official of the Indian High Commission in Islamabad had been passing information to Pakistan's intelligence agencies. The matter is currently under investigation. The officer is co-operating with our investigation." said Vishnu Prasad, spokesman of the ministry of external affairs in Thimphu.
Prasad refused to elaborate further on the issue. Gupta used to work as a translator of Urdu documents in the embassy.
A senior journalist, who is aware of the level of spying done on Indian officers by Pakistan intelligence agencies, expressed surprise over reports about Gupta carrying on her activities inside the Indian embassy in Islamabad.
She must be extra-ordinarily smart to do that, he believes, pointing out that over ten officials of Indian intelligence agencies were posted in the embassy to keep an eye on the Indian staffers.
Intelligence officials are interrogating Gupta to find out if another Indian was involved in the spying operation.