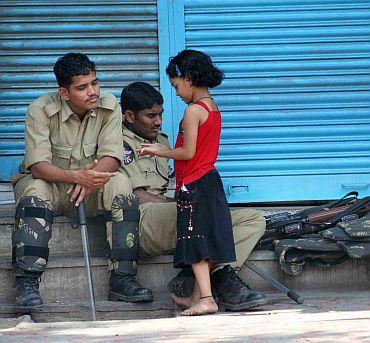 The curfew in Hyderabad was relaxed for the first time on Thursday morning, in parts of the old city which witnessed communal clashes that left two persons dead since Saturday.

No untoward incident was reported from any of the nine areas where curfew was relaxed for two hours from 0800 hours, police said. Hyderabad city Police Commissioner A K Khan expressed satisfaction that the period passed off with out any problem.

The restrictions were eased to allow people to buy essential commodities under the limits of Charminar, Hussainialam, Kamatipura, Kalapathar, Bahadurpura, Madannapet, Santoshnagar, Kanchanbagh and Bhavaninagar police stations.


Though Khan had warned the traders and vendors against taking advantage of the situation for profiteering, many people complained that vegetables and other essential good were sold for exorbitant price. Four persons were arrested in this regard from the old city area.

While the middle class families could manage to take home what ever they can, it was the poorer section and the daily wagers who found it difficult as they were not able to earn anything for the last four days.

With the situation gradually limping back to normalcy, the authorities decided to relax curfew for two hours in nine police stations and a couple of hours, from 11 am to 1 pm, in eight other police stations areas of Falaknuma, Chatrinaka, Chandrayangutta, Shahalibanda, Mirchowk, Reinbazar, Moghulpuraand Dabeerpura.

This is the first time that curfew has been relaxed since it was imposed for an indefinite period on March 29 evening following the clashes which erupted over placing of religious flags on the occasion of Hanuman Jayanthi. The clashes have left over 100 persons injured.

There was no relaxation in Afzalgunj, Shahinayatgunj, Tappachabutra, Asifnagar, Mangalhat, Kulsumpura, Begam Bazar, and Habeebnagar where curfew was imposed on March 30.

Additional Reportage: PTI

Photograph: SnapsIndia