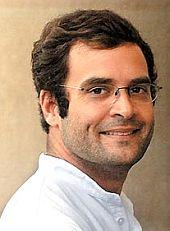 Congress General Secretary Rahul Gandhi's 24 hour-long 'secret' mission in Uttar Pradesh kept everyone on tenterhooks until he flew back to New Delhi from Lucknow on Thursday evening.
No one knows whether he served his objective by spending Wednesday night in a Dalit's hut in a tiny village in Shravasti district along the Indo-Nepal border in Uttar Pradesh, or the idea was to prove that he could move like a common man in the security conscious Mayawati-ruled state.
At the end of the trip, at Lucknow's Amausi airport, Gandhi eluded the local media and left without divulging the purpose of his sudden and secret'mission.
He, however, made it a point to get himself photographed with the driver of the Toyota Innova taxi that drove him around over the past 24 hours and took him to Rampur-Deogan village under Bhinga sub-division of Shravasti district, where he spent the night in the home of a Dalit -- Cheddi Pasi.
"Rahul
saab
gave me a tip of Rs 3,500," Prashant Yadav, the driver, told the media after the Congress leader's departure at Lucknow airport.
Rahul, who shunned all VIP arrangements and bypassed protocol as a Special Protection Group protected person, traveled economy class, both ways.
Peeved over his mission to scan the heartland of Uttar Pradesh without informing the state administration, the state government shot off a letter to the Union home ministry, expressing its concern over such violation of protocol by Gandhi.
"Rahul Gandhi is a SPG protected VIP, whose movements have to be properly monitored and covered under a prescribed security cordon. The manner in which he was spinning around the state on his own was a gross violation of laid down security norms," pointed out a top police officer. "After all, it is the state's responsibility to provide him appropriate security apart from his SPG cover."
"We are taking up the issue with the SPG as well as the Union government," UP Home Secretary Mahesh Gupta said.
UP Congress President Rita Bahuguna Joshi blamed the Mayawati government. "The chief minister is not bothered about Rahul Gandhi's security. Isn't it a gross failure of her intelligence wing that they remained clueless about his arrival by a commercial flight after which he drove through several districts over the past 24 hours?" she asked.
This was the first time that Gandhi had undertaken such a secret trip to UP that even his party leaders had no clue about it. The visit was his first major sojourn into UP beyond the boundaries of Amethi and Rae Bareli, his and his mother's Lok Sabha constituencies.
In January, Rahul stayed the night at a Dalit's home in Simra village in Amethi with British Foreign Secretary David Miliband for company.