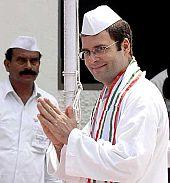 In its first major electoral battle after the 2009 Lok Sabha poll, the Congress is pinning its hope on Rahul Gandhi's youth plank.
As the party announced its first list of candidates for assembly elections in the crucial states of Maharashtra and Haryana, a large number of fresh candidates -- mostly with Youth Congress background -- have been allotted tickets.
In Maharashtra, a substantial 74 out of 159 seats (46.5 per cent) have been allotted to first timers so far.
In Haryana, 19 out of the 68 seats (28 per cent) announced have gone in the kitty of greenhorns of electoral politics. The Congress high command gave ticket to President Pratibha Patil's son, Rajendra Shekhawat, from Amaravati, denying seat to a sitting MLA Sunil Deshmukh.
In both Maharashtra and Haryana, 13 sitting MLAs have been dropped so far. Some more may miss the bus in the next round of announcement.
Congress General Secretary B K Hariprasad said, "Many sitting MLAs were not given tickets because their seats were abolished or got reserved due to delimitation".
Analysing the ticket distribution for Maharashtra, where the party is sharing power with Sharad Pawar's Nationalist Congress Party (NCP) since 1999, a senior leader said, "People want to see fresh candidates. We are in power for the last 10 years so there is an issue of anti-incumbency as well. New candidates would be able to induce fresh momentum in the party."
Rahul Gandhi had mooted the idea of giving 'tough seats' -- places where the party is losing for a long time -- to young candidates with Youth Congress background.
His gamble paid off well during the election, as candidates like Meenakshi Natarajan and Ashok Tanwar were able to wrest some long-lost seats from the Opposition.
The first list of Congress candidates announced today for the Assembly elections clearly had this 'Rahul-theory' stamped on it.
This time in Haryana, state Youth Congress president Sanjay Chokar has been given a ticket. In Maharashtra, YC General Secretary Yashomati Thakur, former president of Maharashtra NSUI (Congress' students wing) and descendant of Lokmanya Tilak, Rohit Tilak, are among the youth candidates.
While the party introduced its new candidates, the fates of many kin of stalwart leaders are hanging in the balance. The Congress didn't release its list for 22 seats in Haryana and 15 seats of Maharashtra. Places like Solapur, Latur and Yavatmal are among the seats that remain to be announced in Maharashtra.
In Solapur, Union Power Minister Sushil Kumar Shinde is trying to get a ticket for his daughter.
In Latur city seat, Union Minister and former chief minister Vilasrao Deshmukh's son Amit is expecting a ticket. Congress state unit chief Manikrao Thackeray is trying to secure the Yavatmal seat for his son.
In Haryana, the candidates announced so far mostly belong to Chief Minister Bhupinder Singh Hooda's camp.
According to a section of the party, more than 60 out of the 68 candidates announced are known to be loyal to Hooda.
Hariprasad, however, denied this charge and said, "All candidates, including Hooda, got ticket of the Congress. Their loyalty is for the party and Sonia Gandhi."
In Maharashtra, the party has so far fielded 49 Maratha, 12 Muslims and 43 OBC candidates. Three Shiv Sena defectors, two former MPs and seven independent MLAs of the outgoing assembly have been accommodated.