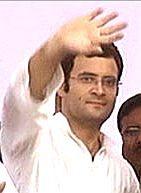 "What is Rahul Gandhi up to?" was the question doing the rounds in Lucknow after the Congress general secretary appeared at the city's Amausi airport on Wednesday afternoon.
Soon after he arrived, Rahul zipped away in an Tata Safari to an undisclosed destination.
Neither local Congressmen nor the state police or administration had any clue about his programme; the state intelligence too drew a blank on the issue.
Speculation was rife that the idea behind his visit was to acquire insights on what life is like in Uttar Pradesh -- beyond Rahul's Lok Sabha constituency of Amethi and his mother Sonia Gandhi's Rae Bareli constituency, to which the duo's visits are usually confined.
Around 6.30 pm a local SMS news service announced that Rahul had been seen in Ramnagar town in Barabanki district where he went about meeting people at random.
Subsequently, he was sighted in Bahraich, but neither the state police nor UP Congress leaders could confirm his ultimate destination. UP Congress President Rita Bahuguna Joshi, who is currently in New Delhi, knew nothing about Rahul's 'surprise' tour.
"We are not even aware if some party leader is accompanying Rahul
ji
on this visit or not," a senior state Congress leader in Lucknow told
rediff.com
In Amethi, Congress supporters and party workers hoped that Rahul would pay a visit to his sponsored hospital on wheels -- the Lifeline Express -- that annually brings modern medical services to the Amethi railway station.
"I am sure he will finally reach Amethi to spend the night there," a party official in the constituency told
rediff.com