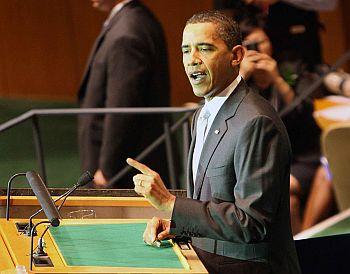 United States President Barack Obama on Tuesday warned time is running out to fight global warming but said the US was determined to act and that climate was the biggest issue in its ties with countries like India and China often blamed for the stalled talks.
Addressing a gathering of 100 world leaders at the United Nations climate change summit, Obama also pressed rapidly growing developing nations to "do their part as well," a veiled reference to emerging economies like India and China.
He said no country alone can meet the challenges on climate change. Obama however offered no new proposals that could serve as a catalyst to push the stalled talks on a UN climate pact.
"We have put climate at the top of our diplomatic agenda when it comes to our relationships with countries as varied as China and Brazil, India and Mexico from the corner of Africa to the corner of Europe," he said.
His comments came shortly after the UN Secretary General Ban Ki-moon said talks were moving too slowly and admonished the countries ahead of the Copenhagen summit of 190 countries in December aimed at sealing a deal to slow climate change.
"Failure to reach broad agreement in Copenhagen would be morally inexcusable, economically short-sighted and politically unwise," Ban said.
Continuing, Obama said, "We understand the gravity of the climate threat. We are determined to act and we will meet our responsibility to future generations."
He also warned there would be tough talking ahead of the Copenhagen climate change conference. "There should be no illusions that the hardest part of our journey is in front of us," he said.
"But those rapidly growing developing nations that will produce nearly all the growth in global carbon emissions in the decades ahead must do their part as well," Obama added.
Text: PTI
Image: US President Barack Obama speaking at the United Nations Climate Change Summit on Tuesday
Photograph: Jay Mandal