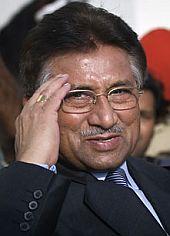 Former Pakistan President General Pervez Musharraf has blamed India for the formation of terror groups such as the Jaish-e-Muhammad.
Talking to a private television channel, Musharraf said it was the oppression of Muslims in India by the Hindus, which forced the Pakistani youth to take up militancy and extremism and form terrorist groups such as the JeM.
Musharraf also defended his action of supporting the United States in its 'war on terror' post 9/11 attack saying Pakistan's existence could have been endangered if he would have not done so.
'Pakistan's territorial integrity could have been jeopardized had Pakistan not decided to side with the US and allied forces in the post-9/11 scenario,' The Daily Times quoted Musharraf, as saying.
Musharraf said during his regime Pakistan made unprecedented progress in all fields including on delicate issues like Kashmir, Siachen and the Sir Creek dispute.
"The country had moved forward on all major issues such as Kashmir, Sir Creek and Siachen through 'back-channel diplomacy' during my tenure," Musharraf said.
He also claimed that India has built consulates near the Pakistan border in Afghanistan with an aim to destabilize Pakistan.