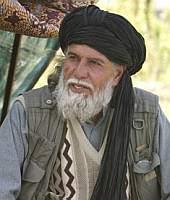 In the first major arrest of Taliban commanders of Swat, Pakistan Army on Friday said it had arrested Muslim Khan, the spokesman for the Taliban in the restive valley, along with a prominent militant and three others.
Muslim Khan and senior Taliban commander Mehmood Khan, for whom authorities had offered rewards of Rs 10 million each, were arrested by security forces 'in a successful operation in Swat', the army said in a statement.
Three other militants -- Fazl Ghafar, Abdul Rehman and Sartaj -- were also apprehended, army said.
Muslim Khan is the first senior Taliban leader from Swat to be captured by the military.
The army claims it has killed over 1,800 militants in a four-month-long campaign in Swat and other parts of the Malakand division though the top militant leadership, including local Taliban chief Maulana Fazlullah, continues to evade them.
Though the army has wrested control of most parts of Swat valley from the Taliban, but its plans to withdraw the bulk of the forces has been stalled due to sporadic clashes, which are continuing in the region. The Taliban has also mounted several suicide attacks in the past few weeks.
The military's failure to capture or kill the top militant leaders has sparked fears that the Taliban could regroup and stage a comeback in Malakand division.