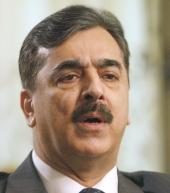 Pakistan premier Yousuf Raza Gilani on Monday directed the Interior Ministry to send a team of experts to Sri Lanka to probe if elements based there were linked to the terrorist attack on Lankan cricketers in Lahore.
Gilani issued the direction during a meeting in Islamabad with Interior Minister Rehman Malik, who apprised him on the overall security situation in the country. The premier asked Malik to "send a team of experts to Sri Lanka in order to exchange information in connection with the investigation about the attack on the Sri Lankan cricket team at Lahore," said a statement issued by Gilani's office.
Gilani on Sunday told reporters that President Mahinda Rajapaksa had given him clues linking elements in Sri Lanka with terrorist attacks in Pakistan, including the strike on the Sri Lankan cricket team on March 3. Gilani had met Rajapaksa during a recent visit to Libya.
He said Rajapaksa told him that terrorists in Pakistan were being financed from Sri Lanka and both countries are conducting investigations in this connection. Eight persons were killed and over 20 others, including several Sri Lankan players, injured when terrorists ambushed the team's convoy at a busy traffic roundabout.