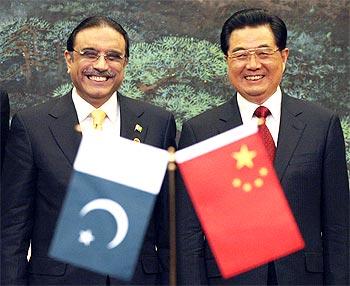 Taking their bilateral relations to a next level, China has said that it would provide financial assistance to Pakistan for launching its first satellite.
Addressing a press conference in Islamanad, Chinese Ambassador to Pakistan Lou Zhaohui said China is ready to extend all help to Pakistan regarding its space mission, and a Memorandum of Understanding in this regard would be signed next week.
Zhaohui also informed that Chinese President Hu Jintao would meet his Pakistani counterpart in New York later this month on the margins of the United Nations General Assembly.
He said the meeting will focus on strengthening bilateral ties of the two nations.
"The focus would be on a wide range of regional and international issues, but of course the emphasis would be on bilateral relations. The interaction will further deepen friendship with China," The Dawn quoted Zhaohui, as saying.
"It is important for the leaderships to establish personal friendship," he added.
 
Meanwhile, Chinese authorities have stated that Pakistan saved Beijing from embarrassment by persuading certain Islamic countries not to take the issue of ethnic violence in Xinjiang before the Organisation of the Islamic Conference.
Replying to a question while interacting with media persons at the Chinese embassy, Zhaohui said, "Yes, Pakistan played its role in doing so."
Zhaohui said Islamabad has been very helpful in assisting China counter the Xinjiang violence and the East Turkestan Islamic Movement.
Responding a question, Zhaohui said China was building a new embassy in Islamabad, but it was different from the expansion of the US embassy, as Beijing has no plans of stationing its security officials at the embassy.
Commenting on the massive economic assistance that China is providing Pakistan, Zhaohui said China had provided 1.5 billion dollars to Islamabad since 1998, which was unprecedented in Chinese history.
"China is presently involved in 120 projects in Pakistan and over 1,000 Chinese engineers were working on these projects," The Daily Times quoted Zhaohui as saying.
Image: Chinese President Hu Jintao with his Pakistani counterpart Asif Ali Zardari
Photographs: David Gray/Reuters