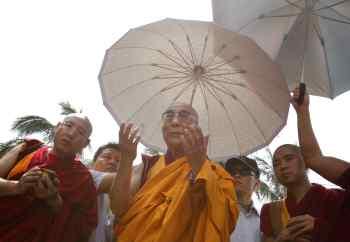 Tibetan spiritual leader Dalai Lama has asserted that Tibet, under his leadership, is not seeking independence from China. The Dalai Lama, who is currently in Taiwan to comfort victims of a recent typhoon that killed more than 500 people, told the CNN in an interview that his position on Tibet is clear and transparent.
"Everybody knows I am not seeking independence. The Chinese government also knows my sort of real thinking," Dalai told the CNN.
"But they accuse -- accusations, for them, is suitable for their basic policy," he said when asked about the Chinese allegation that he is a political troublemaker and even a separatist.
"Sometimes I really feel, as I think many of my friends know, I always am described as a simple Buddhist monk. I always tell other people, my friends, we should be honest, truthful, transparent. So while I am telling other people, I myself must implement these things," he said.
According to CNN, the Dalai Lama said he will not meet with Taiwan's president to avoid politicising the trip.
Image: Dalai Lama prays for the victims of Typhoon Morakot in Hsiaolin village at southern Taiwan | Photograph: Nicky Loh/Reuters