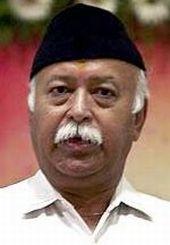 Rashtriya Swamyamsevak Sangh chief Mohan Bhagwat on Wednesday said if India wished to carve its own identity vis-a-vis China, it should not forget the scars of the 1962 war though the present situation was different.
The RSS has been critical of India's stand against China during the past few months which has witnessed increase in incursions by the neighbouring country in Arunachal Pradesh and which had also raised objections to Prime Minister Manmohan Singh's visit to the state.
"We (India) are in competition with them (China)... scars should not always be forgotten," Bhagwat said.
Giving an analogy in which a driver insists to continue driving even after meeting with an accident as if he stopped driving he would live with the fear in the future, Bhagwat said, "Though the 1962 days were different, what has to be forgotten should be, but what has to be remembered (scars) should not be forgotten... There is a clash between India and China."
He said India should realise that after 1962 China had gained a lot in the international fora through good relations. India too should master the Chinese 'Art of War' and gain power without going to war, he suggested.
Bhagwat said India should strive to carve a separate identity for itself instead of emulating China or US. "India should say it wants to become India," he said.
Bhagwat invoked Swami Vivekananda's thoughts to say that India was a power, which could not keep itself aloof from international politics and should play a vital role in it. However, he said honest debate and "merciless introspection" was very important for the country to progress.
He lamented that in India people debated for the sake of debating. The exercise should lead to some solution, he added.
Bhagwat said he was not opposed to democracy or debates. "While India had known social untouchability, an ideological untouchability is now creeping in," he lamented.
BJP, RSS downplay 'chemotherapy' controversy
Meanwhile, both the RSS and the Bharatiya Janata Party went on a damage control mode a day after Bhagwat suggested "surgery" or "chemotherapy" for BJP's revival and Rajanth Singh's unsavoury response.
Bhagwat clarified that he had only meant that it was for the BJP to decide whether it needed "chemotherapy" or 'surgery" in the backdrop of its Lok Sabha debacle.
"I did not say chemotherapy is needed (by BJP), but you know what happens in the media. Now I do not even want to clarify. The news channel has clarified the issue. By now, the clarification is there even on our website," Bhagwat said.
He was speaking at the book release function of former Panchajanya editor Tarun Vijay's book 'India Battles to Win'.
While Rajnath Singh on Wednesday denied having made any adverse comments against Bhagwat saying he was a "Swayamsewak" first.
"It pained me when I saw (reports attributed to him) on the television last night and in newspapers today, which said I have reacted to Bhagwat's statement," Singh said in Nagpur.
Singh, who was in Maharashtra to felicitate the newly elected BJP Members of Legislative Assembly, said there was no question of his having questioned whatever Bhagwat had said, "since I am a Swayamsewak first".
"The so-called secular forces are trying to divide the Sangh Parivar, but will never succeed in their evil designs," he said.
Image: RSS chief Mohan Bhagwat